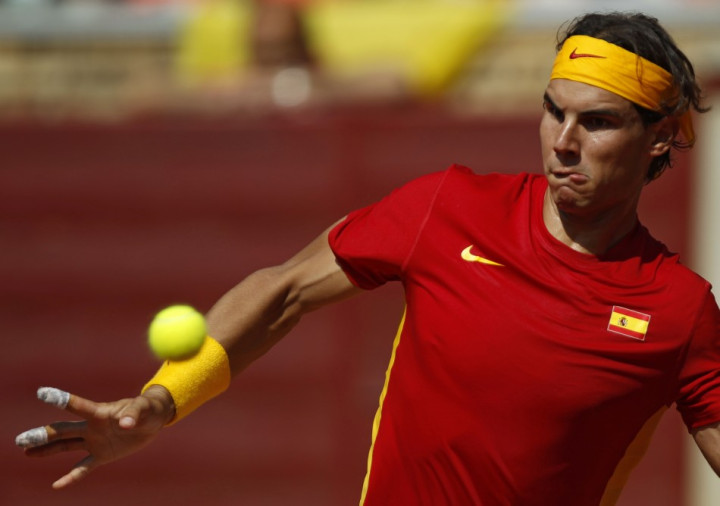 Rafael Nadal has won the French Open for a record-breaking eighth time with a 6-3 6-2 6-3 victory over David Ferrer.
The 27-year-old became the first man to win a Grand Slam title on eight occasions.
A year ago, Rafael Nadal surpassed Bjorn Borg for the most titles at Roland Garros. On Sunday 9 June in Paris, Nadal made even greater history, becoming the first man to win the same major tournament eight times.
Nadal broke his fellow Spaniard's serve early in the first set, but Ferrer fought hard in his first major final.
The match was briefly held up when a spectator, bare-chested and wearing a white mask, ran on to the court, brandishing a flare.
The protester jumped over a flower barrier and on to Nadal's end of the court, just as the Spaniard was preparing to serve.
However, the intruder did not get close to Nadal as he was mobbed by black-suited security guards who bundled him behind the scenes.
Celebrating his win, Nadal said: "It's one of the most special ones. In the last year I have had some low moments but without my family I would not have done this. Without my physio I could not have done this. I never realised something like this could happen for me."
The Spaniard, who celebrated his 27th birthday on Monday 3 June, has made a strong return to the ATP World Tour this season, following a seven-month layoff with a left knee injury from July 2012 to February 2013.
Nadal has won 43 of the 45 matches he's played, reaching the final at all nine events he's contested and winning a Tour-leading seven titles.