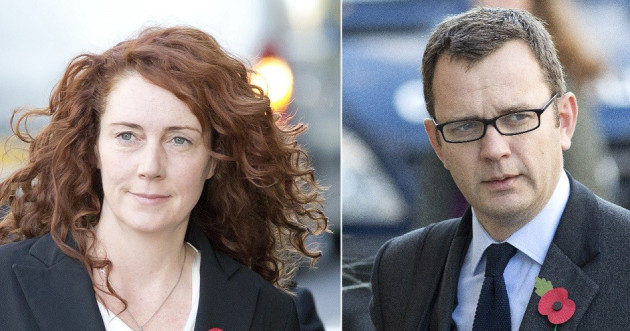 Rebekah Brooks and Andy Coulson were "part of the conspiracy" to hack phones at the News of the World, the jury at the Old Bailey was told.
Andrew Edis QC as he opened the case against the former editors of two flagship newspapers owned by media tycoon Rupert Murdoch.
Brooks and Coulson, who both used to edit the Sun and the News of the World (NoW) were among eight defendants in the dock who deny charges of intercepting communications.
At the Old Bailey Edis said: "We say we will be able to show that there was phone hacking at the News of the World. That Glenn Mulcaire did it. That Clive Goodman did it. And that Ian Edmonson did it."
He asked: "Were they asked as part of the conspiracy, given that they were so senior at the paper? They wanted it to happen because they were in charge of the purse-strings... so you may say that if they didn't stop it, they were part of the conspiracy to carry on."
The jury of nine women and three men was told they must decide one "simple issue" by Edis. "There was phone hacking. Who knew?"
Former chief editors Brooks and Coulson, former senior editor Stuart Kuttner and reporter Ian Edmondson were all charged with conspiring to hack into phones by eavesdropping on voicemails.
Coulson allegedly paid a police officer at Buckingham Palace for a copy of the palace phone book after Goodman asked him to approve the payment, the jury heard.
Brooks allegedly ticked off payments to public officials during her tenure as editor of the Sun. Edis claimed she paid £40,000 for stories to a Ministry of Defence official.
Edmonson commissoned Mulcaire to carry out "an undoubtedly large number of phone hacks", said Edis.
Three broad allegations were made by Edis against the eight defendants in the dock.
The first was that the NoW hired Glenn Mulcaire to illegally carry out phone hacking in order to find stories. The second was that public officials such as prison officers and police sold information to the paper. The third was that some defendants tried to hide evidence, allegedly perverting the course of justice.
The case continues.