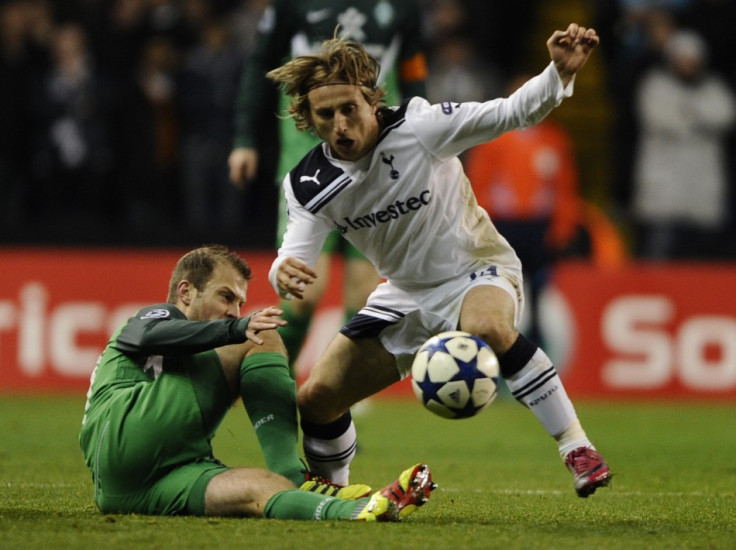 Manchester United clearly need a new midfielder in the same vein as Tottenham Hotspur talisman Luka Modric according to Jamie Redknapp.
Manchester United endeavoured to sign the aforementioned Tottenham Hotspur playmaker in the summer and Redknapp suggests their need for the diminutive Croatian is obvious yet not easily rectified.
While highlighting Manchester United's perceived weakness in their midfield, which was recently exasperated by the well documented problems of Darren Fletcher, Redknapp claims Sir Alex Ferguson is unlikely to bring in a new playmaker next month, least of all Tottenham star Modric, because of their lack of availability in January.
Tottenham boss Harry Redknapp, the aforementioned Jamie's father, recently warned Manchester United and Modric's other suitor Chelsea that White Hart Lane's prized asset is not for sale.
While Tottenham's midfield dynamo looks a hugely ambitious and equally unlikely January purchase for Manchester United, Sky Sports presenter Redknapp believes a Sir Alex Ferguson is probably unlikely to make any lavish statements next month anyway.
Citing the likes of Ryan Giggs, Michael Carrick and the returning Tom Cleverley the former Tottenham Hotspur and Liverpool midfielder intimates Manchester United will perhaps try and negotiate the season with what they already have.
"(Manchester) United have needed a midfield player for some time, though, as shown by their summer pursuits of Samir Nasri, Luka Modric and Wesley Sneijder and the fact that Jones and Wayne Rooney have had to fill in there this season." The son of Tottenham Hotspur boss Harry Redknapp told skysports.com.
"The unfortunate illness to Darren Fletcher - who I send my best wishes out to - only makes that need greater. He didn't play much towards the end of last season but he always starts the big games and marks other teams' star individuals.
"But would the calibre of player Manchester United are looking for be available?"
"January is a notoriously difficult time to shop. If you're a great midfield player, you're still going to be in the Champions League or at a club fighting for a league title, and most teams are not going to want to sell their best players.
"It's not as simple as opening up the cheque book and bringing someone in. Where are the available players? Answers on a postcard please."
In the past Manchester United have relied on the likes of the indomitable Roy Keane, but Redknapp, who spent over a decade at Anfield and a further three at Tottenham Hotspur, claims the days of midfielders like the Republic of Ireland international and his long-time nemesis Patrick Vieira are over.
"The need for a general in the middle of the park is not as big as in years gone by. United haven't had a dominant midfielder player since Roy Keane and they've still won trophies.
"The game has changed now; crunching sliding tackles get punished by referees and it's more about staying on your feet and making interceptions. That's why I think they have had such success. It may have been different if football was still about people like Keane and Patrick Vieira going to war.
"Ideally, they (Manchester United) would want someone of (Tottenham Hotspur's) Modric's ilk to come in but with that unlikely, it gives a chance for others to step up.
"Michael Carrick has won a lot since joining Manchester United but seemed surplus to requirements earlier this term. He now has a chance to stake a claim, as does Cleverley when he returns from injury; he looked like a top young player when he was starting games at the beginning of the season. Plus, the evergreen Ryan Giggs can play there, too."