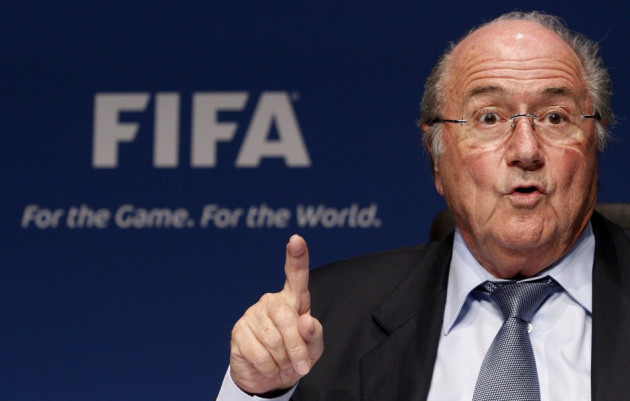 FIFA president Sepp Blatter has apologised for causing offence with his divisive remarks on racism but said he has no intention of resigning over the controversy.
Blatter told the BBC he "deeply regrets" using "unfortunate words" on Wednesday that matters of racial discrimination should be resolved with a handshake between players.
"It hurts and I am still hurting because I couldn't envisage such a reaction," said the 75-year-old president.
"When you have done something which was not totally correct, I can only say I am sorry for all those people affected by my declarations."
Blatter reiterated that his "fight against racism and discrimination will go on" and that he has no plans to step down from FIFA despite calls from the likes of David Beckham and David Cameron to resign.
"I cannot resign. Why should I?" he added. "When you are faced with a problem you have to face the problem. To leave would be totally unfair and not compatible with my fighting spirit, my character, my energy."
He also called for life-time bans for players found guilty of racism on the pitch.
"Zero tolerance," he said. "This was a good lesson for me as well."
Former England captain David Beckham and British Prime Minister David Cameron have both condemned Blatter's comments on racism, as the controversy threatened to engulf the FIFA president.
"The comments were appalling. A lot of people have said that," Beckham told reporters ahead of the MLS Cup final in the United States. "I don't think that the comments were very good for this game.
"There obviously is, and has been, racism throughout soccer and in life over the last few years. I do think, especially being around the England team and being around the FA - the FA do a lot of work in kicking racism out of the game.
"They've made huge strikes in the past 10-15 years - but it is still there."
Beckham also refuted Blatter's assertion that a handshake at the final whistle was sufficient to forgive any racist comments on the pitch.
"It can't be swept under the carpet, it can't be sorted out with a handshake," he added. "That's not the way of the world and that's not how racism should be treated.
"It's out there and we have to keep working hard to keep it out of the game and life in general. Racism is something we want to keep out of sport but also life in general."
On Thursday, British Prime Minister David Cameron also criticised the FIFA president.
"It's appalling to suggest that racism in any way should be accepted as part of the game.
"A lot of work has gone into ridding racism from all aspects of our society, including football. As many of our top sports stars have rightly pointed out, now is not the time for complacency."