Ricky Hatton has high hopes for his return to the ring after admitting that he would love to secure rematches with Manny Pacquiao and Floyd Mayweather.
The two modern greats of the sport are the only men to have defeated Hatton in his 47-fight career, and it seems the 33-year-old is hoping that he will have a chance to avenge his losses now he is making a return to professional boxing.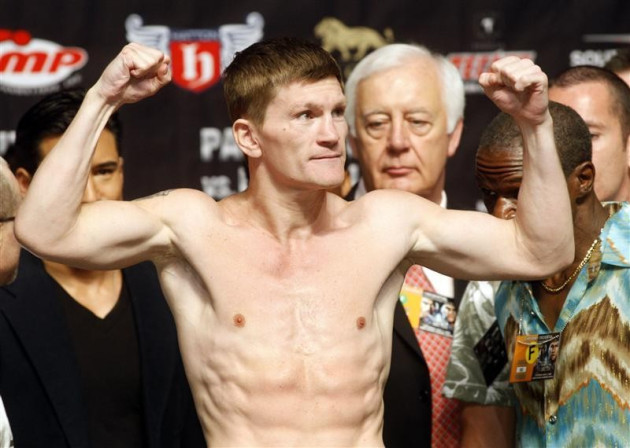 "I dream about another go at Mayweather and Pacquiao, without a doubt. The ultimate goal is to redeem myself," Hatton told the Manchester Evening News.
"If I come back from all my problems and win a world title, from being suicidal, that would be a great story - but it is more than that.
"If you could climb in my head you would understand exactly why I am coming back.
"I became so depressed after Pacquiao because I thought I let my fans down, I felt I let myself down, I felt I let my family and kids down.
"Is my return for money? No, it's to redeem myself. It's to make everyone proud of me. If I can do that from where I was, then I'd like to think that even my harshest critic would say fair play."
'The Hitman' may have been out of action for the last three years, but it seems he believes that he can get back in the world title picture when he returns, against a yet to be named opponent, on November 24 at the Manchester Arena.
"I want to win a world title, but it is more about redeeming myself," said Hatton. "That's the fight now. This is more than a boxing comeback. This is someone who was highly thought of whose life turned to s***.
"I want people to say, 'Ricky Hatton, he fought Kostya Tszyu, he boxed in Las Vegas, became a two-weight world champion. Didn't his life turn to s***?
"Didn't he blow it? But didn't he bounce back?' That's the story I want. I want the world title. But more than that I want Manchester, British sport and my family to be proud. I want my kids to say, 'That's my dad.'
"I don't people to say to them, 'Your dad was a belter - but my god he blew it.' That would make me cringe."
Hatton has already dropped more than three stone as he looks to get in the best shape possible for his return and it seems he has been inspired by the success of British fighters Amir Khan and Kell Brook.
"I haven't come back for four and six-rounders - I want the world title," continued Hatton. "Khan is my mate and Kell is a lovely kid, but watching them from a distance on the couch, I can't say that they are not motivation."