Poland's Interior Minister Jacek Cichocki has rejected media reports suggesting one football supporter has died after violent clashes between rival Russian and Polish fans prior to the European Championship group match between the two nations.
Unconfirmed reports from news channel Russia Today suggested one supporter had died during the scuffles between supporters, following a march by Russian fans through Warsaw.
Police now confirm they have arrested 183 people and that at least 15 others were injured in fights in the Polish capital, as Russian supporters marked the 12-year anniversary of the break-up of the Soviet Union with a march to the National Stadium.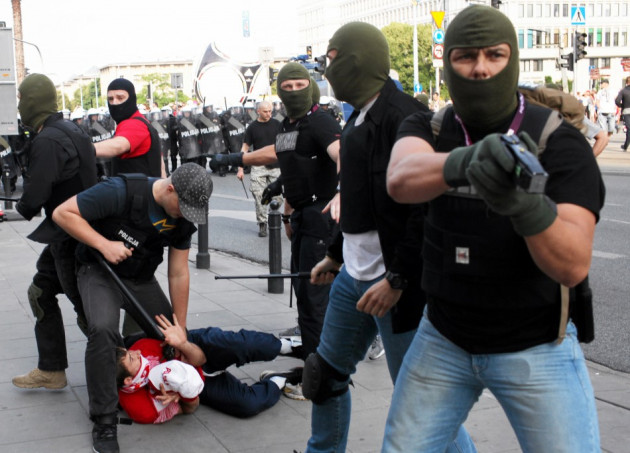 Authorities were forced to fire teargas and rubber bullets as well as to use a water cannon on supporters who fought prior to the game, after officers had been bombarded with rocks, bottles and flares from Polish hooligans.
During the match, further trouble broke out between supporters at parks, where the games were being shown on large screens, with police firing rubber bullets and tear gas after glass bottles were thrown at them by young fans.
"There are more than 183 hooligans caught by the police because of disorder in Warsaw - firstly during the march to National Stadium, secondly in the Fanzone in Plac Defilad Square," Polish police said in a statement.
Both Russian and Polish fans are being held as the police operation continues. Further arrests are expected, police said.
With both sides having a reputation for hooliganism, around 6,000 police were on duty during the march to the stadium, which had been sanctioned by city authorities.
Despite the 9,850 Russia fans attending the game having been requested to stay inside the stadium 20 minutes after kick-off, attacks continued to take place, though the police presence helped contain the violence.
Trouble flared as the Russian supporters, 20,000 of whom were expected in Warsaw, crossed the Vistula river surrounded by riot police and were met by Polish fans.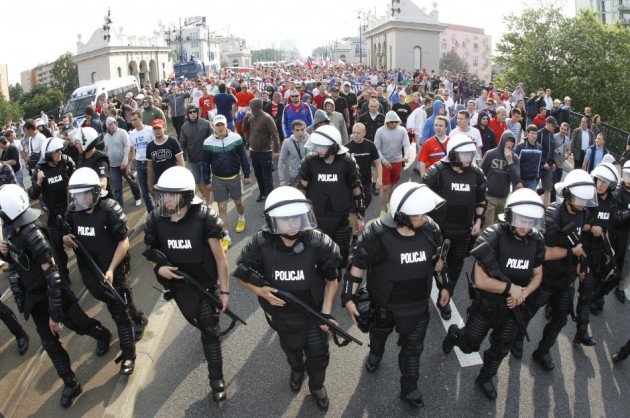 A group of Poles unveiled a banned saying "Polish President murdered in Russia", referring to the April 2010 plane crash in which president Lech Kaczynski and 95 others died.
In a separate incident earlier in the day, 50 Polish fans threw smoke grenades and stones at Russian supporters in a Warsaw café, where one fan suffered serious head injuries.
Against the backdrop of strained relations between the two nations, Cichocki had previously referred to the day as the "greatest-ever challenge for forces of law and order in the capital".
Following the violence, Poland's state news agency Pap reported that an adviser to Russian President Vladimir Putin will travel to Warsaw.
"We need to calm the situation," Putin's adviser for civil society and human rights, Mikhail Fedotov, said.
Russian fans further stoked relations between the two nations at kick-off in Warsaw by unveiling a large flag bearing the words "This is Russia".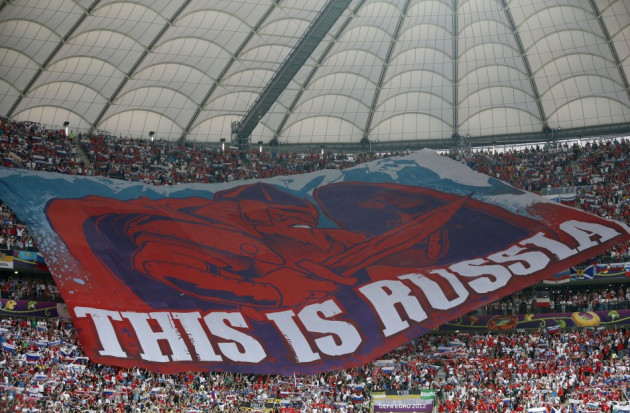 Uefa has already charged the Russian football association with improper conduct after supporters were filmed fighting with stewards following their first group game against Czech Republic in Wroclaw.
Four stewards required hospital treatment, as fans were caught on camera kicking and punching inside the stadium. The incident is under investigation.