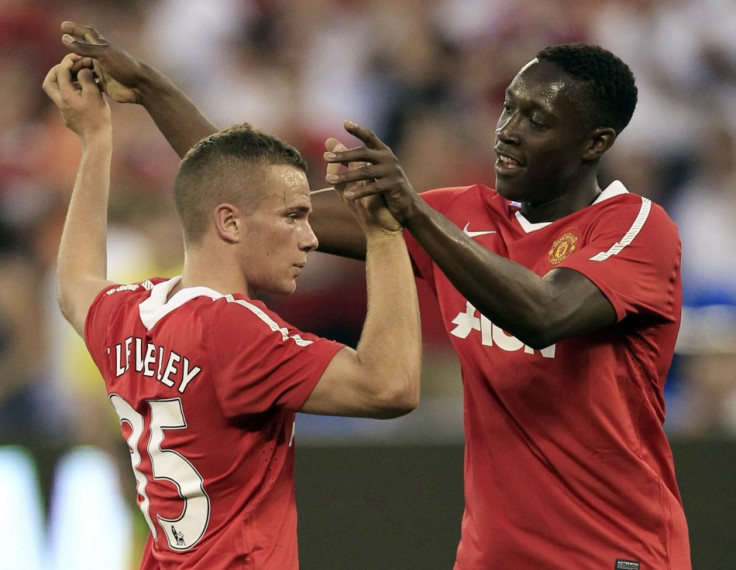 Manchester United first-team coach Rene Meulensteen admits he is revelling in the recent development and subsequent rise to prominence of Danny Welbeck and Tom Cleverley.
The prodigious Manchester United duo have made huge strides in Sir Alex Ferguson's starting XI this season and Meulensteen feels their superb introduction to top level football at Old Trafford is a glowing endorsement of the club's training methods.
The Manchester United coach has played a fundamental role in their education, nurturing them from precocious 10-year-olds to fully fledged England internationals, and Meulensteen admits their progress at Old Trafford has made his job even more rewarding.
The Manchester United coach, who initially joined the Old Trafford coaching staff in 2001 prior to spending a year away with Brondby in 2006, is a great advocate of the Coerver method. A philosophy based around the idea that technical skills are not exclusively inherent but can also be learnt in a controlled and comprehensive academic environment, is rammed into the club's young players at their academy. The 47-year-old believes the persistent emphasis of technical ability and ball retention are lessons that remain with young players for the duration of their footballing careers.
The Dutchman intimates Manchester United's meticulous and structured educating of their young players is certainly beginning to yield ample results.
Talking about the aforementioned Will Coerver coaching method, Meulensteen told United Review: "I worked with Will (Coerver) myself and I was very fortunate to do that.
"That provided the background, the basis of the philosophy which I've taken on board and expanded it so it has become my philosophy, engrained with all the other important aspects.
"I'm just a very strong believer in it because the best players out there in the world - past and present - have given us that information. If you go back in time to George Best, Johan Cruyff and Diego Maradona up to all of the best players now - Lionel Messi, Cristiano Ronaldo, Wayne Rooney - they've got the ability to take players on and beat them. It's not only important for the team, it's very exciting for the game itself."
The Manchester United coach suggests it is a method based around behavioural science, in that it is fundamentally about encouraging young footballers to pick up good habits.
"In the beginning, the kids are young and just respond to the environment you create for them," Meulensteen explained. "They don't know what is good or bad, they just enjoy it or hate it but they will do it.
"If I had kids climbing the fence up and down all day, they don't know whey they're doing it.
"But, when they get to 18-20, they realise it's no good and they should've worked on their skills.
"When they've gone through that, it has become second nature and that's why skill development is so important in the early age groups because it can become second nature by 16, 17 and 18.
"If a player is going to be a defender, midfielder or attacker, they also know it's no problem because they think if I'm under pressure, I've got the skills to deal with it and that is the big difference."
Meulensteen admits seeing the results of his labour bear fruit in the shape of Danny Welbeck and Tom Cleverley, is hugely rewarding as they perfect graduates of his methods.
"It is, more and more, an exciting time for me," Meulensteen continued.
"It's started with Welbeck and Cleverley because, when I came in, they were 10 or 11.
"Now they've featured in the first team team and, just underneath, there's the likes of Larnell Cole, Jesse Lingard, Ryan Tunnicliffe, Tom Thorpe, Ezekiel Fryers and the Keanes.
"They've all been on the skills journey and are now coming back to Reserves training and working with the first team and they see the same coach, sending the same messages.
"They say: 'Do you remember?' and it's a case of: 'Yes, so now you can tell why we did it. It should make you a player who can make a difference for us'."