The Tuesday Club was the unofficial name for the weekly alcohol-fuelled gatherings that took place during the height of the Premier League's drinking culture.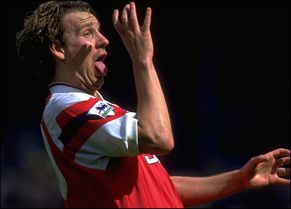 Paul Merson (left) and other players who played in Arsenal's double-winning season in 1997-98 have spoken about their epic drinking sessions.
Steve Bould, who is now the club's assistant manager, once ordered a mammoth 35-pint round for five team-mates during Arsène Wenger's first summer as manager in 1997.
Those days of boozy excess in sport appeared to have gone. But a Canadian company is seeking to profit from launching a specially formulated beer as a "recovery ale".
The Lean Machine drink is being marketed as a low-calorie, low-alcohol sports recovery drink, designed to help people after an "aggressive workout" while making drinking "socially fun".
The marketing material for Lean Machine says the "fit beer" will be aim primarily at young adults aged 19 to 32 – the age group which is the largest consumer of ready to drink beverages, an industry which is estimated to be worth US$10 billion a year.
"New drinkers are active socially and search for brands that embrace their active afternoon lifestyles and support the night", it says.
The drink touts itself as a healthy alternative to traditional ales, with only 77 calories and 0.5% alcohol by volume. The manufacturers claim it's backed by science and will help promote a "faster and more effective recovery".
The science does have a vaguely plausible sounding basis. Beer contain small amounts of electrolytes and fluids, which are lost through sweat when we exercise, as well as carbohydrates and some proteins, which the body needs for recovery after a muscle-strengthening workout.
In previous studies, researchers have reduced the alcohol content of beer substantially and added certain kinds of salts to make a recovery beer that rehydrated athletes better than normal beer – but still didn't rehydrate athletes any more than a conventional sports drink.
The downside is that other studies have shown that drinking alcohol after a workout can undo any good work by reducing the body's ability to repair the muscles after exercise.
Previous attempts to market low-alcohol alternatives, including a whisky-like, non-alcoholic beverage called Claytons which hit the shelves in New Zealand in the 1970s, proved unsuccessful.
But Ian Toews, the founder of Vampt Beverage Corp, is bullish about Lean Machine's chances of getting funding: "We just thought that maybe we could do something that would support a drinker, make it still socially fun, and help them accomplish what needs to be accomplished after an aggressive workout."