In America there is one sure way of knowing you have become part of the national conversation, and that's when Saturday Night Live does a parody of you. So when Ghostbusters star Melissa McCarthy did a hilarious sketch of Sean Spicer, it was a sign that the White House press secretary had already transcended his job.
McCarthy underwent a staggering transformation including a blonde wig with side parting that looked uncannily like Spicer's haircut. In the mock press conference she told journalists she would "begin by apologising on behalf of you to me for how you have treated me – and that apology is not accepted".
Spicer achieved this dubious honour in just the second week as the spokesman for the US President, Donald Trump. Just as his boss is the most divisive president in modern times, Spicer is the most controversial press secretary in decades.
In his first statement at the White House he roared onto the national stage, berating journalists for five minutes before leaving without taking any questions. Rather than addressing the threat of Islamic State (Isis/Daesh), dismantling Obamacare or cutting taxes, Spicer falsely claimed that Trump's swearing-in had the "largest audience to witness an inauguration, period".
Pictures from the National Mall showed that it was nowhere near as full as President Obama's 2009 oath-taking ceremony. Ridership figures from the Washington DC metro showed it was not a record. But that did not stop Spicer repeating the claim that Politifact, a fact-checking website, said was "pants on fire": its highest rating for a lie.
More lies followed and the response among journalists was one of horror. Conservative commentator Bill Kristol tweeted: "It is embarrassing, as an American, to watch this briefing by Sean Spicer from the podium at the White House."
In the view of the media establishment Spicer was the mouthpiece for an administration that had no respect for the truth. One reporter who covers the White House for a major US website told IBTimes UK: "I didn't think you could come back from a start like that, to be honest."
But Spicer has, and every day he has been attacking the "dishonest" media and explaining policies like getting rid of Nafta, the trade deal between the US, Canada and Mexico.
Like most PR people, Spicer doesn't necessarily even believe what he says, nor does he appear bothered by it. For three years before taking his current post Spicer was a strong advocate of free trade as a communications director at the Republican National Committee. Trump is now vehemently anti-free trade.
As Spicer put it to the Washington Post: "There are doctors who help people who have done bad things, there are lawyers who defend bad people. I don't think it's unique to my profession."
Nor does Spicer seem to care much what you think of him – he even posts all of his press conferences on his personal YouTube channel.
Spicer has told the New York Times: "You're not here to be someone's buddy. You're here to enact the president's agenda. And if you think it's going to be anything bad, then this isn't the job for you."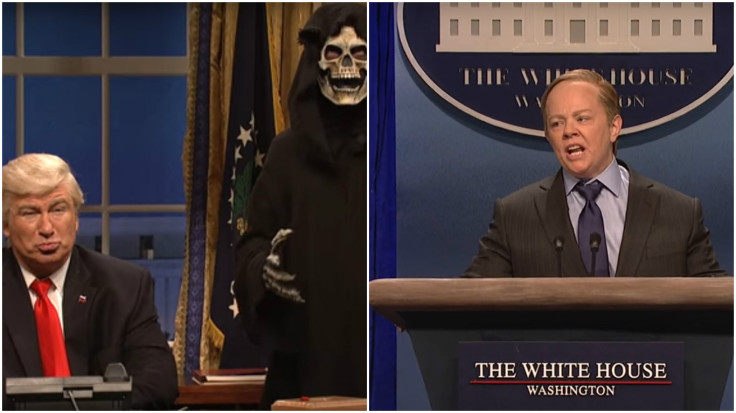 Spicer, 45, was born in Barrington, Rhode Island and attended Connecticut College where his rocky relationship with the press began. Spicer reportedly complained about the student newspaper after it called him "Sean Sphincter" in an unfortunate spelling error.
In a letter Spicer wrote: "Maybe I am not all that familiar with the production of a 'newspaper', but I am really not sure how this can be explained as unintentional."
Spicer lambasted the "half-truths" in the article and – in a finger-wagging tone that White House correspondents are now quite familiar with – told the journalists that "maybe they should start to write and report like professionals".
The incident gave fuel to the jokers at Blats, a satirical student publication which ridiculed Spicer, who was on the student government. In an article it wrote: "Sean Spicer can talk and talk and talk, and after the dust settles and after the air is still, man mouths are quivering in awe and wonder at the way Sean can spin his yarn out for miles, without saying anything of consequence."
Trump doesn't like his people to look weak.
After Connecticut Spicer studied at the Naval War College and in the late 1990s started working for Republican congressmen before entering PR with a job for the US Navy Reserves. He moved back to the Republican party and worked his way up to become communications director of the Republican National Committee during the 2016 election.
Spicer is married to his wife Rebecca, 45, a former TV producer who was an associate director of communications in the George W Bush White House.
Last January, Spicer appeared the the University of Chicago's Institute of Politics to give a talk in which he laid out the ground rules for being a successful PR. He said: "I have never lied... because if you lose the respect and trust of the press corps, you've got nothing. To go out and tell an all-out lie is something that's just not acceptable."
Asked about Saturday Night Live, Spicer said that he liked the sketch but said that the show "has gone from funny to mean, and that's unfortunate". And after such a roasting it is hard not to have some sympathy for Spicer, not least because his boss is very demanding.
Trump reportedly watches the daily press briefing every day and is said to have complained to Spicer that he wasn't dressed smartly enough. Trump was also reportedly upset that Spicer was played by a woman on the SNL sketch. A top Trump donor told Politico: "Trump doesn't like his people to look weak."
On social media Spicer has been nicknamed "Baghdad Sean", a reference to Mohammed Saeed al-Sahhaf, also known as Comical Ali, the former Iraqi information minister during the second Gulf War, who once reported that Iraqi forces were slaughtering allied troops as American tanks could be heard arriving in Baghdad in the background.
Nobody is saying Spicer is quite there yet – but there are four years to go until his boss' first term is up.
---
Daniel Bates is a freelance journalist based in Brooklyn.
---