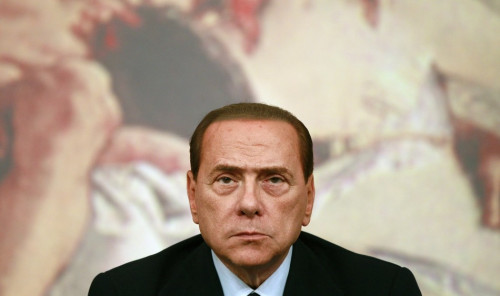 Italy's former prime minister Silvio Berlusconi is said to be planning to run for the European elections in May on an anti-Merkel platform.
Forza Italia's parliamentary leader Renato Brunetta told the FT that the 77-year-old media mogul was ready to fight at the ballots again, after being ousted from the Senate on a tax fraud conviction.
The three-time prime minister was sentenced to four years in jail for tax evasion worth several million euros by his media company Mediaset.
The term was reduced automatically to one year under a general amnesty, and Berlusconi will have to serve the remaining 12 months either under house arrest or through public service. The final decision will be reached by a Milan court on 10 April.
Despite Berlusconi being barred from holding elected office for six years, Brunetta said that the binternet was boosting the magnate's popularity.
He explained that for many Italians his criminal conviction was perceived as politically motivated, so nurturing his image as a victim.
Brunetta said Forza Italia's agenda in the next European elections would be "to attack a Germanised Europe".
Berlusconi was often at odds with German chancellor Angela Merkel, who he accused of austerity measures that enriched northern Europe at the expense of the south.
The disgraced politician is jumping again on Italy's political stage after Matteo Renzi, leader of the centre-left Democrats, reached out to his former enemy to make a deal on electoral reforms.
The reforms may favour a centre-right alliance led by Berlusconi.
A recent survey, conducted by Ipsos agency, gave the potential centre-right coalition 37.9% of the vote - above the 37% threshold needed to obtain a large winner's bonus of seats.