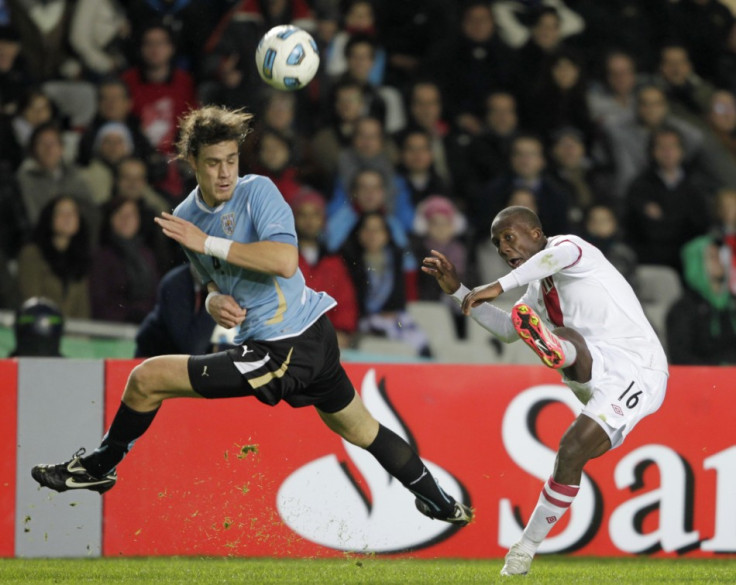 Sebastian Coates has revealed that Luis Suarez encouraged him to join Liverpool, as the young Uruguayan continues to find his feet in the Premier League.
Coates joined the Reds at the end of August, with the centre back joining Liverpool alongside Uruguay international teammate Luis Suarez.
Kenny Dalglish and Damien Comolli have since made formal agreements with Coates's South American side Nacional, to continue to build a relationship based around providing one another with talented players.
And Coates, who has now made seven appearances for Liverpool, says that it is partly thanks to Suarez's help that he is settling well into life in England.
"He is like a bigger brother, not like a father," Coates told the official Liverpool website.
"I appreciate very much all the help he has given me since I've been here.
"I'm not sure if he persuaded me to come - he encouraged me. He told me about life in Liverpool, at Liverpool Football Club. He also told me what a great club Liverpool was in Europe and England but I knew that.
"I'm settling in very well. I'm getting used to the city, getting used to the people and getting used to English football. I've had the help of Lucas and Luis and Maxi. That helps me very much."
Coates acknowledges that relocating across the globe is a necessary part of being a professional footballer, and the 21 year old says learning English and dealing with the weather have been his biggest challenges.
"It is difficult but when I started my career as a footballer I was aware there was a possibility I'd have to move to play football in a different country," he explained.
"You have to adapt and make the best of a situation like this.
"For myself and my family, the most difficult thing is the language. We're trying to learn English as quickly as possible so we can improve our quality of life in this country.
"The other thing is the weather - but I came here to play football, not for the weather."
The youngster is still adapting to playing for one of the world's top leagues, but Coates believes that he's learning quickly.
"I think I've done well so far," he said. "We've won the matches I've played in but I've got lots of time in which to learn, and I am learning, little by little.
"The other centre-backs have treated me well and helped me very much. We have a very healthy competition between us because, logically, a player always wants to play football but they've given me a lot of advice. I've been able to learn a lot from them.
"I hope to play many games for Liverpool and do very well for the club. I hope I'll stay here a long time and contribute much to Liverpool Football Club."