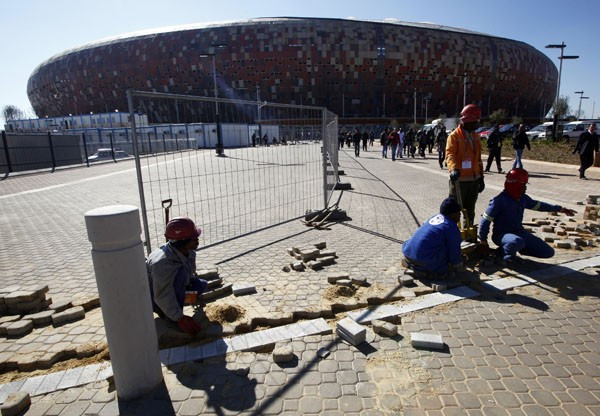 1. $305 million - the amount top sponsors such as Hyundai, Sony and Coca-Cola are reportedly paying to be 'FIFA Partners' - including worldwide rights to two World Cups over seven years ($40 million per year).
2. Sales of Booze, Pizza and Televisions are set to rise with the British Retail Consortium reporting already rising TV sales. DSGi, finance director Nicholas Cadbury says: "This World Cup coincides with LED flat screen technology becoming widespread and affordable, and more often than not, HD-ready."
3. $649 million by Television rights in 2009, $550 million in 2008, further revenue from marketing rights contributed $277 million and $253 million respectively. FIFA Partners alone have contributed $148.5 million each year since the World Cup in Japan/South Korea.
4. Sainsbury's hopes to see a 220 pct increase in the sale of telly's whilst Tesco's hope to shift 300,000 the month before.
5. £750 million of bets by fans are expected to take place this time and bookmakers will be delighted if England lose - Ladbrokes and Paddy Power are facing reduced profits since the start of the year and hope the World Cup can boost their takings on odds of 8/1 for England, 7/1 Argentina and 19/4 Brazil.
6. £18 million - the amount Carlsberg are spending on marketing during the World Cup.
7. $194 million the turnover of FIFA in 2009, up from $184 million the previous year and $49 million in 2007, which is due to the cyclical nature of the World Cup. FIFA's financial health is almost dependant on a successful staging of the World Cup and the latest tournament has posted record revenues that surpass even the two previous tournaments.
8. $1,061 million - the revenue of FIFA in 2009 - topping the one billion mark due to the successful staging of the tournament in Africa for the first time in its history.
9. Six - the number of FIFA Partners that are in place till Brazil 2014. Hyundai, Sony, Adidas, Coca-Cola, Emirates and VISA have worldwide rights to two World Cups. Additional Sponsors are signed up for each individual competition with McDonalds signed for South Africa 2010. Total contributions from additional sponsors from 2007-2010 is $204 million.
10. $103 million - the amount beer can maker Rexam is investing in Brazil this year raising output in South America 11 per cent. "The greater Brazil's chance of winning, the more beer people will drink" commercial director, Renato Estavao says.