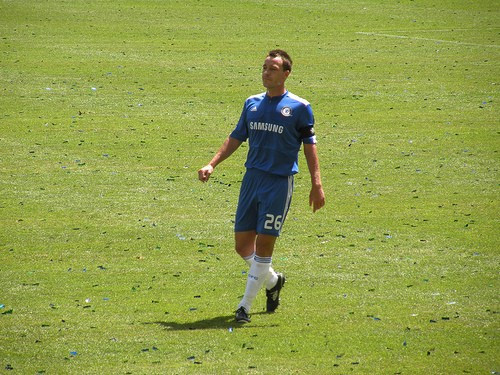 Chelsea captain John Terry claims he could never leave Stamford Bridge to play elsewhere and admits he is honoured to be in an elite category of players who are one club men, such as Manchester United's Ryan Giggs and Liverpool's Steven Gerrard.
The aforementioned Manchester United and Liverpool legends have spent their entire careers at Old Trafford and Anfield respectively, and likewise, Terry, the self-proclaimed 'Mr Chelsea' has only ever played for the Blues.
The controversial England captain believes it is huge achievement to have played for just one club his entire career, intimating the likes of Giggs at Manchester United and Gerrard at Liverpool are a rare breed "in this day and age".
The long-serving Chelsea captain was famously coveted by Manchester City a few seasons ago, while Steven Gerrard very nearly left Anfield in order to go to Stamford Bridge during Jose Mourinho's tenure, and although Ryan Giggs has never looked likely to leave Manchester United, Terry intimates all of the aforementioned deserve respect for their commitment.
"For me, you don't see (one-club players) in this day and age," he told Chelsea TV.
"You see a couple of the Man United lads (Ryan Giggs, Paul Scholes and Gary Neville) and Stevie G (Steven Gerrard) at Liverpool, but other than that you couldn't count five people on your hand.
"It is a rare breed and I am really proud to have spent my whole career here." Terry mused while discussing the few players in football who have remained at one career for the entirety of their playing days, like Gerrard at Liverpool and Giggs, Gary Neville and Paul Scholes at Manchester United.
"I have been fortunate enough to start at a very young age and to see different managers come in, big managers, and for me to keep improving. One because I have wanted to and secondly because I see this as my club and always will." The Chelsea captain added.
"When I finish playing I want to come back to Stamford Bridge and bring my kids to watch games and things like that.
"For me, I am really proud to be at one club and no other club. I could never see myself in another shirt anyway."
Giggs is Manchester United and British football's most decorated player in history having made his league debut in March 1991. Liverpool hero Gerrard made his bow for the club in November 1998 against Blackburn Rovers, while John Terry made his first Chelsea appearance a month earlier than his England colleague in October of the same year.