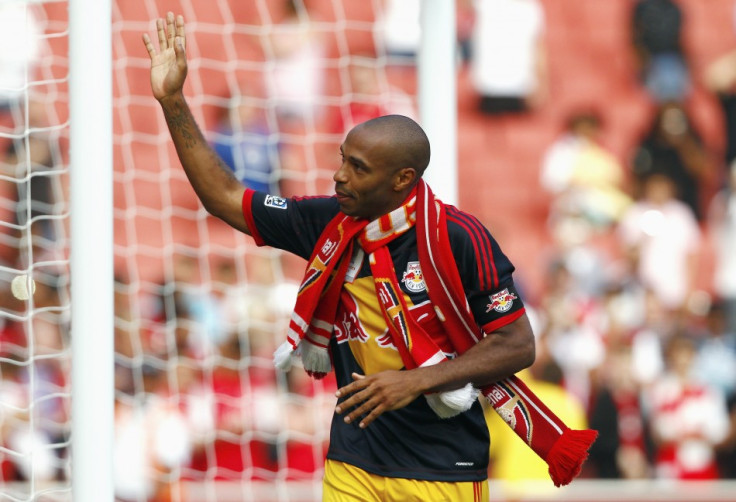 Thierry Henry says he wouldn't close the door on a move into coaching after hanging up his boots for the last time, with the Arsenal legend refusing to rule any club out of his future endeavours.
Henry, who is thought to be one of the best strikers in the Barclays Premier League era, scored 174 goals and broke the record for most goals for the club and in Europe. In 2007, he made the move to Barcelona, and is now at MLS side New York Red Bulls at the age of 34.
And while there are some years still left in the superstar, who has often been voted by Arsenal fans as the best player in the club's history, Henry insists that that he won't rule out becoming a coach when he retires, though he will also consider moving into another footballing role behind the scenes.
"Would I become a coach? I don't know. When I see what happens to a lot of coaches - some got a job for one month, two months, two days," he told the official Arsenal website.
"Then there is Arsene Wenger who is in his 15th year, and Alex Ferguson. Everyone knows I love football and living without it is difficult for me.
"After my career, it is obvious I will remain around football, but how, in which job, for which club? I don't know."
In the same interview, Henry admitted that he still follows Arsenal, despite leaving the club four years ago.
"I believe Arsenal are still playing good football." He said. "I became a Gunners' fan for life. Something happened with the fans, which I could not forget.
"I want the team to have success and go forward. Either you say they didn't win anything for six years or you try to go forward with that group."
Henry revealed his thoughts on why Arsenal have struggled to bring home a trophy forso many seasons, with the striker saying that the transitional period associated with losing big players is still taking it's course at the club.
He explained: "It has not been easy for Arsene. Pat Vieira and I left and I agree it is a long transition. This season will be very important for the coach and the club.
"I really hope we will bring back a trophy. But we must not forget what Arsene did for Arsenal. In football, it is easy to judge people at the time. But could we find a better solution? We don't know."