Placenta-Eater Tia Mowry-Hardrict: Why You Should Eat Your Own Afterbirth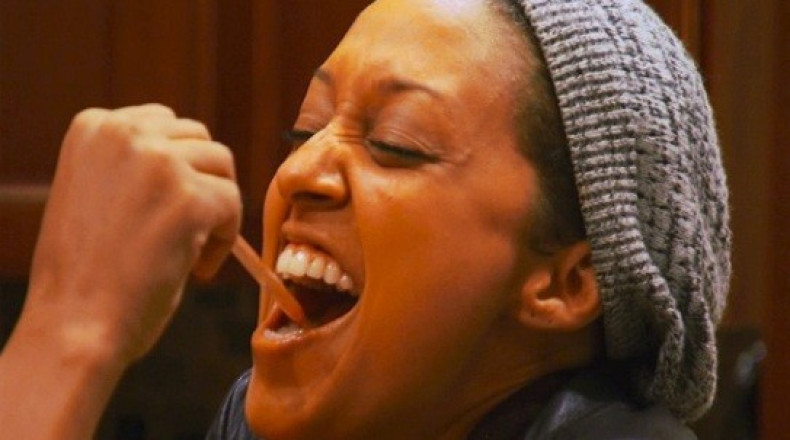 Reality show fans watched Tamera Mowry-Housley, who had just given birth, coax her twin sister Tia Mowry-Hardrict into tasting her placenta.
The identical sisters, who rose to fame in 1990s show Sister Sister, filmed the episode for the season finale of their US Style network reality show Tia & Tamera.
Although Tia almost backed out, Tamera, who had recently given birth to a baby boy she called Aden, mixed the planenta with a little brandy, which Tia then drank.
"Tasting Tamera's encapsulated placenta was very interesting," Tia wrote on her blog.
"If you think about it too much, you're not going to like it, because all you're going to think about is that you're consuming placenta. But I was surprised that it tasted pretty good mixed with a little bit of alcohol.
"It was definitely Tamera paying me back for making her taste my breast milk. I tasted my own breast milk and I still think my breast milk was sweeter than Tamera's placenta."
One viewer wrote: "Uck! What's next - eating her excrement?
Another said: "I'm a twin and I would never would never do this. It's not a twin thing ... trust me. Yuck! I'm utterly disgusted."
Eating placenta is popular in some cultures. Not only is it said to be rich in nutrients but also helps the mother recover, according to some beliefs.
IBTimes UK takes a look at just a few reasons why new mothers should consider eating their own placenta.
Rich in nutrients
As the placenta is full of vitamins, minerals and perfectly balanced hormones, many believe that it has many health benefits. Not only can it help the mother recover from childbirth, but it is believed also increase energy and even prevent ageing.
Helps with milk supply
Although it is not medical proven, the usual practice is said to help boost a woman's breast milk supply as the placenta contains small amounts of oxytocin which eases birth stress and causes the smooth muscles around the mammary cells to contract and eject milk.
Prevents Post-Natal depression
Some doctors believe that eating the placenta is a natural way to ward off postpartum depression and other health problems that are associated