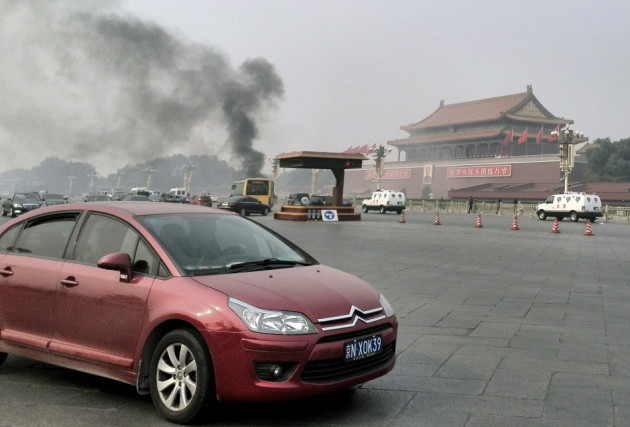 Rumours and theories surrounds the incident in Beijing's Tiananmen place after a SUV car ploughed into the crowd and burst into flames, killing five people and injuring 38.
After the incident, the vast square near the Forbidden City was temporarily closed and security measures came into effect. The explosion sent a smoke billowing near a giant portrait of Mao Zedong, the communist China's founder.
Two AFP reporters were temporarily detained close to the site. "A jeep crashed into the guardrail on Jinshui Bridge, and then caught fire," Beijing police said on Weibo social media. Xinhua state official news agency said five people died and 38 among tourists and police officers were injured.
Being the symbolic centre of the Chinese state, Tiananmen has always been the site of pro-democracy protests. Authorities are always alerted to prevent them, especially around the 4 June anniversary of the brutal clampdown on student-led demonstrations.
Social media users started speculating on the reasons behind the attack. According to AFP, which translated some Weibo users' statuses, the incident may have been intentional.
"Is this the 2013 Tiananmen self-immolation incident?" asked one user. "There's still a person inside the car!" Another user asked: "Could it be a terrorist attack?"
Chinese foreign ministry spokeswoman Hua Chunying refused to comment on rumours that the incident was a terror attack. The official version of the event is that the car veered off the road at the north of the square, crossed the barriers and caught fire.
Tibetans use self-immolations with fire as a radical way of protesting against Beijing's iron rule on the restive mountainous region. Falung Gong, a Buddhist sect, tried using the square as a protest site since 1999 to 2001, when five of them set themselves on fire suffering severe burns.
In 1982, a female taxi driver drove across the square and crushed into concrete barriers. She had been fined before the incident and caused five deaths. She was executed 20 days later.
The main road in front of the Forbidden City was later re-opened to vehicles but no pedestrians were allowed near the scene of the incident.