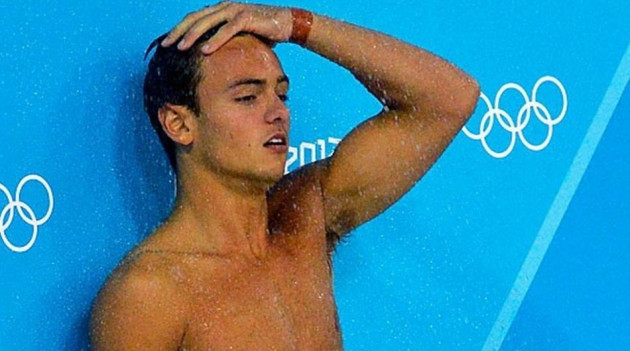 Olympic diver Tom Daley has revealed that he is gay.
The 19-year-old Briton, a bronze medalist at the 2012 London Olympics, addressed on his sexuality in a YouTube video.
"In spring this year my life changed massively when I met someone, and they make me feel so happy, so safe and everything just feels great," he said. "That someone is a guy."
"It did take me by surprise a little bit, it was always in the back of my head that something like that could happen, but it wasn't until spring this year that something just clicked. It felt right," he added.
Since the news broke out, his name has been trending on Twitter, with celebrities and fans congratulating him on his bold step.
Ross Davenport: "Fair play @TomDaley1994. You shouldn't have to 'come out' in todays world. Good luck with training and smash it in Rio!"
Katie Piper: "Very pleased for @TomDaley1994 that he has found happiness, lovely story :)"
Lateysha Grace: "Got so much respect for @TomDaley1994 after watching his video."
Emma Kennedy: "And that's not remotely a criticism of Tom Daley by the way, it's a criticism of every major news outlet treating it as Breaking News."
Jill Stark: "Respect to Tom Daley for his courage but I look forward to a time when being a gay elite athlete won't even be noteworthy. #equality"
Nick Hope: "Respect to @TomDaley1994. Hopefully this makes it easier for those frightened of public reaction to their situation"
Vicky Beeching: "Much respect to @TomDaley1994 for his brave video. Really hope Twitter is full of love & support for him today"
Daley, who was crowned Sexiest Man in the World by readers of gay magazine Attitude, had previously denied reports that he is gay.
"I think it's funny when people say I'm gay... I laugh it off," he told the Sunday Mirror, "I'm not. But even if I was, I wouldn't be ashamed. It wouldn't bother me in the slightest what people thought.
"But I can understand why I have a massive gay following - I spend most of my life half naked in trunks on a diving board showing off my bare chest. I often joke I wear more to bed than I do to work. But I'm cool with my gay following. It's great to have gay fans even though my friends gently take the mick.
"I just think about my diving," he said, "If people think I am gay or that I don't focus on my diving enough and go out too much, there is always going to be an opinion - and if I worry about that too much, then my diving goes downhill."
Take a look at the video below.