Tony Blair has hailed the historic deal which brought peace to Northern Ireland as an example of "magical" politics, brokered by him.
Writing in the Guardian, the former prime minster claimed the Good Friday agreement of 1999 was struck against the odds, and revealed that getting touchy-feely with sectarians on both sides helped him cross the political and religious divide to bring peace.
Blair also spoke of how important it was for "leaders" to win the consent of the "led" population for the peace process to be a success.
His latest article is likely to hand ammunition to critics who claim Blair still has a Messiah complex.
He said: "It is hard to look back on the events that led up to the Good Friday Agreement and the subsequent years, without a profound sense of amazement at how it all came together and how it was sustained. Alastair Campbell rightly says there was something mysterious, almost magical, about how things fell into place."
Blair described reaching out the hand of peace to Catholics and Protestants, Unionists and Nationalists as key to success.
"To bring people together you have to understand in a genuine sense why they feel as strongly as they do. This is not a matter of reason but of emotion," he said.
"In a conflict there is suffering of a nature and on a scale that we from the outside can scarcely appreciate, because it is not within our experience. Each side has a sense of pain and of cruel consequence from the other side's actions.
"They need to know that those mediating get this feeling, not at a rational but at an empathetic level. In getting it, the mediator is then able to pass something of the pain of each side to the other."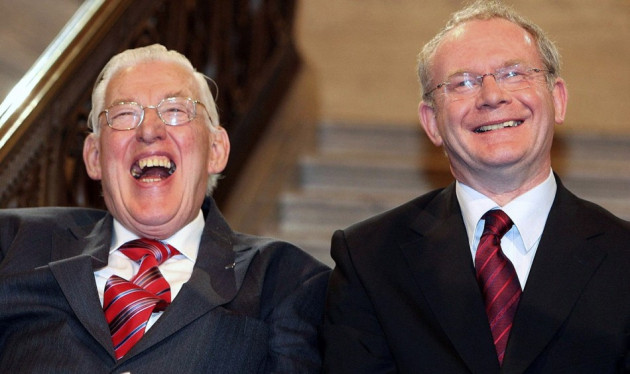 Decades of violence had caused deep wounds which threatened the whole process. "There was still enormous suspicion and resentment that at times threatened to sink the whole thing," Blair admitted.
But the ex-PM revealed he knew the peace process was making progress when he said Ian Paisley and Martin McGuinness were dubbed the 'Chuckle Brothers' in newspaper headlines.
Blair's words offer insights in to the landmark agreement which was supposed to mark the finish of the Troubles, after more than 30 years of conflict. It was one of the highlights of Blair's time in Downing Street between 1997 and 2007.
His new reflections on the Good Friday agreement were in a foreword for a book written by Alistair Campbell, the New Labour press adviser who left Blair's side in 2003 in the wake of the scandal of the 'dodgy dossier used to justify invading Iraq.