Carlo Cudicini has his fair share of experience in Europa League matches, and with Lazio, and the Tottenham keeper says that the Italian outfit will be one of the toughest sides to face in the tournament this season.
Lazio are getting set to face Spurs at White Hart Lane first, and then in Rome in November, as both sides look to challenge for the Europa League Cup in what will be a very grueling competition across the continent.
Tottenham themselves face a difficult few weeks, playing their first league cup game as well as two matches in the league along with Lazio, and squad rotation will be of the upmost importance, something Andre Villas-Boas learnt well at Porto.
And Cudicini, who played for Laizo in 1996-1997 but suffered a seirous wrist injury in his time at the club, says he knows just how tough they will be to beat for Tottenham, not just for the players but for the fanatical supporters who love their club above all else.
"Rome is a great city to live in and it was a good experience for me at Lazio," he told the Tottenham website.
"The supporters there are very good, really passionate and even though I only played once for them, they still show me a lot of support.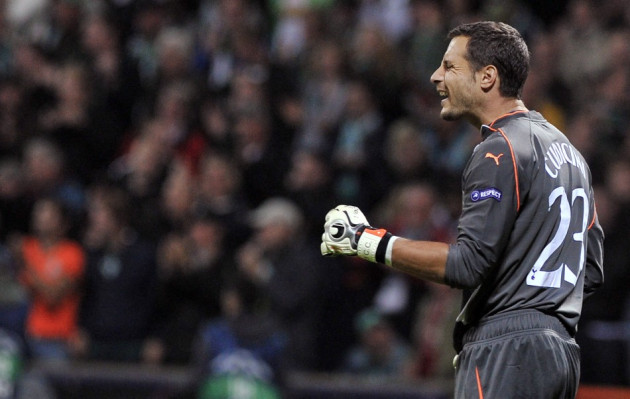 "I still get letters from Lazio fans which is amazing considering how my time at the club went - I've got a lot of respect for the supporters there."
Cudicini says that the roll Lazio are currently on will make them extra challenging for Tottenham, with three wins in a row for the side in the Serie A so far.
"They changed the manager, struggled in pre-season and there was a lot of pressure on the new manager," he explained. "But after the first three games of the league season, they have three wins.
"It's a solid team, with a very good goalkeeper in Federico Marchetti and at the moment the man to watch is Hernanes.
"They also have Miroslav Klose, who everyone knows is a dangerous forward. The players have been together for a few years now and that's one of their main strengths."
But Tottenham are witnessing a change in momentum as well, and will be hoping that they can build on their 3-1 win over Reading as they prepare for Thursday.
Jermain Defoe in particular has come into good form recently, though Villas-Boas will likely be relying on the youngsters to come through for the side as he continues to settle into the job in north London.