Scott Parker has admitted that Tottenham are particularly disappointed with their loss against Chelsea, after the now dubbed 'ghost goal' ruined the side's confidence as the match progressed.
Juan Mata lobbed the ball towards the net just after half time, and though replays show the goal shouldn't have counted, referee Martin Atkinson signalled that it did, and Chelsea went on to win the match 5-1.
And though Parker has refused to make excuses for Tottenham, he did admit that the frustration and disappointment over the goal made the uphill battle for Spurs seem a lot worse.
"It's not even a debate, is it really? It's clearly obvious," Parker told Sky Sports.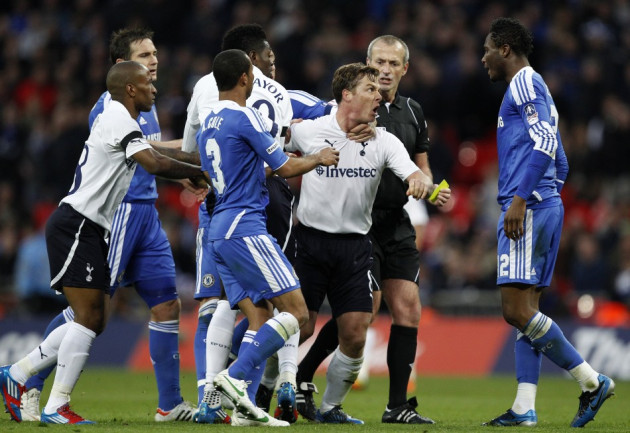 "It's not even one we can even sit here and say did it/didn't it. It was nowhere near the line. I was in perfect view, I could see four players were covering the line, so how the ball would have got over the line I don't know.
"The linesman said he didn't make the decision and the ref took it upon himself. It was disappointing. Those decisions change games.
"At 2-0 we come out, we chase the game a little bit, we get a goal back (but) we're a bit stretched and at the end of the day 5-1 is a bad result. But that decision is crucial and that's not making an excuse.
"It's a massive part in the game really so we're disappointed."
Meanwhile, Harry Redknapp revealed that Atkinson admitted he got the decision wrong on the goal, leaving Tottenham without a trophy for the season while Chelsea move into the final.
"The second goal was a disaster for us," he explained to the BBC. "It was an honest mistake by the referee but it was nowhere near the line.
"The referee has made a big mistake. He hasn't done it on purpose but I don't see how he could give the goal.
"It wasn't as if someone kicked it away and it all happened so quickly.
"I spoke to him and he said he feels worse than I do about it - I said 'I don't think so.' He said he feels bad and he's going to have a bad week but there is nothing we can do about it now."
Tottenham now look forward to face QPR, before taking on Blackburn, Bolton and Aston Villa as they fight to hold onto fourth spot in the table.