Two Roma fans have been banned from attending any sporting events in Italy for five years, Italian police have confirmed, after a planned attack on Tottenham fans left two English supporters with serious injuries.
Tottenham were preparing to play Lazio in the second leg of their Europa League group stage match in Italy, when a group of fans at the Drunken Ship pub were descended upon by Italian supporters believed at the time to have an allegiance with Lazio.
Two fans were stabbed in the violence, and were at one point in a critical condition in hospital, and police have now confirmed that it was in fact Roma fans who have been charged with attempted murder.
"Agents of Rome police have informed two Roma fans in our custody that they are banned from accessing sporting events for the next five years," a police statement read.
"Francesco Ianari and Mauro Pinnelli were arrested on November 22 for aggression towards some British fans of Tottenham on the Campo de' Fiori after being identified by police a few hours later.
"On that occasion, a group of people, most of them with their faces covered, entered the Drunken Ship pub and attacked some English supporters. Some of them were injured in the raid, one injury being particularly serious."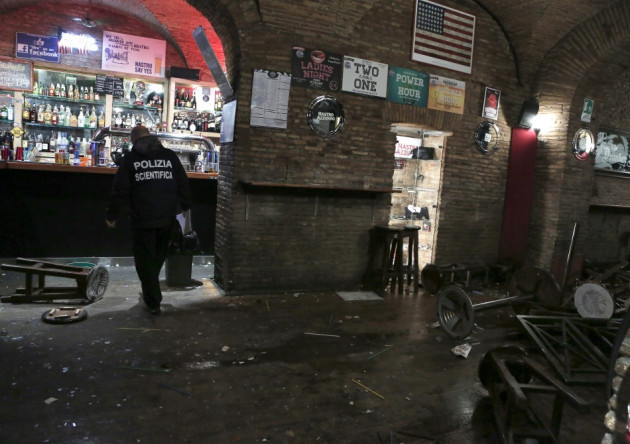 It's not the first time in recent years that English football fans have been attacked by Italian supporters in European Cup matches. In 2006 Middlesbrough fans were attacked in the very same pub, as they played Roma in the UEFA Cup.
Italy have since apologised for the violence against the Tottenham supporters, with Italian FA president Giancarlo Abete saying: "Once again, football has given a handful of delinquents the excuse to take out their racist and anti-semite anger.
"There is evidence of this undoubted motive, which is detrimental to the image of Italian football and doesn't match with the traditional hospitality and welcome of the city of Rome.
"The city authorities and I publicly express our firm condemnation, with my personal indignation at these events.
"I beg you to send our apologies to all Tottenham's fans - and in particular to those families directly involved.
"I will personally follow the investigation's development and remain at your disposal should my assistance in any further matters be required."