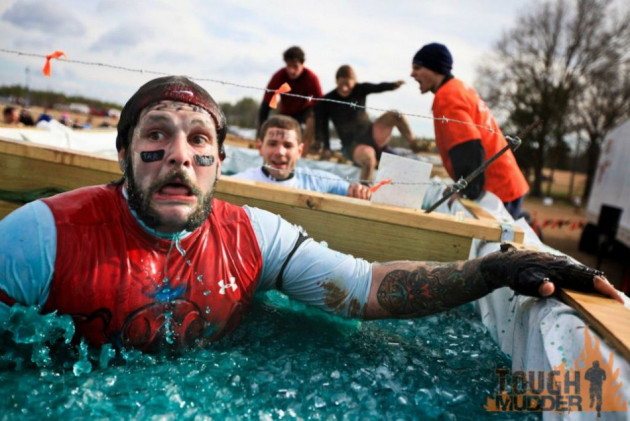 Let me just start by declaring that I hate running. It is just not for me. The idea of being alone with my thoughts as I endlessly take one step after another for hour after hour is just not appealing. That is why I signed up for Tougher Mudder - it would give me the chance to feel camaraderie with my fellow entrants as we help each other conquer the gruelling 12 mile course.
With 22 obstacles between me and a cold beer and a free headband, I figured this would be a great way to get some enjoyment out or running. I mean, I certainly would never get bored when faced with flaming bales of hay and leaps of faith into freezing cold water. In fact it even sounded like it could be good fun. But that was months ago, now, in just over 48 hours I will be on the start line and suddenly fear has gripped me. Just what have I let myself in for.
The map for Saturday's course finally arrived and it all became very real. Especially when I discovered that the very first obstacle was called the ARTIC ENEMA. That just doesn't sound good. What it actually involves is plunging myself into a tanker of ice at 9.30 on a Saturday morning. And is doesn't get any better.
Just listen to some of the names of the obstacles and I'm sure your imagination can picture exactly what I'm in for. There's the Boa Costrictor, Dirty Ballerina, Funky Monkey, Fire Walker and a rather worrying one near the end called Everest.
The nerves are definitely here to stay until the moment me and hundreds of other poor souls begin the epic 12 mile slog. As soon as it begins I'm sure the months of training will kick in and may even enjoy parts of it - at least that's what I'm hoping for.
As I mentioned, I really despise running so the many jogs I've embarked on over the course of the last four months should be worth something come the finish line. But more than that, it will prove that all the hard work has been worth it and I can call myself one of the few who can proudly say they are a Tough Mudder.
So, the training is done, I've had the best nutritional advice from my friends at maximuscle and Asics have been kind enough to kit me out with the right trainers and running apparel. I'll at least look the part when it all kicks off and by the time I taste that first free beer at the end I will have earned it.
Next week I'll let you know how I got on and there will be plenty of pictures to prove I made it. I'm certain I will have the look of anguish on my face but it will all be worth it so that I can proudly wear my bright orange headband and claim....I conquered Tough Mudder.