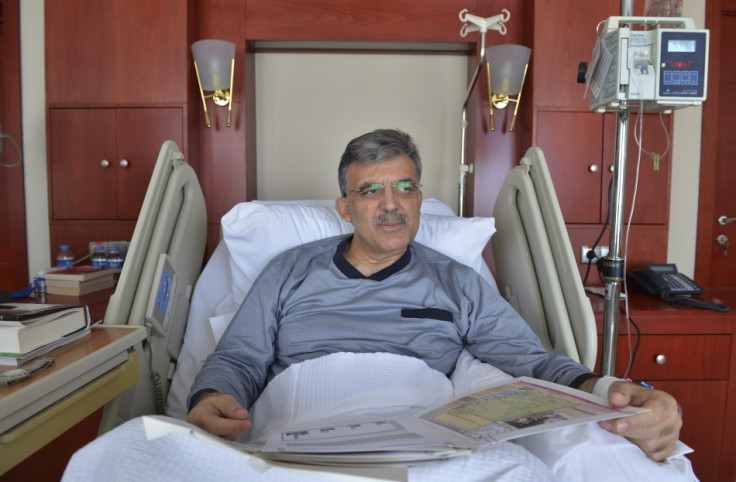 Turkish president Abdullah Gül has returned to work after an extensive stay in hospital, after his office refuted speculation that he was poisoned.
Gül, 62, was discharged after 10 days in hospital in Ankara. Announcing his release, the premier tweeted:
"I am back home. Thank god I am fine. I want to thank all the personnel from Hacettepe University Hospital and the Presidential health unit staff for all their efforts."
Officially, Gül was receiving treatment for a recurring ear problem. However the length of his stay, and the circumstances which led to his admission, prompted widespread speculation.
The president had been at a summit in Kyrgyzstan, but reportedly became dizzy and fell to the ground as the event drew to a close. He was promptly rushed back to Ankara, with all his official commitments for the following days cancelled.
One prominent Turkish newspaper, Yurt, published claims that Gül had been poisoned - prompting an official denial from the president's office.
"The claims about [the] president's medical condition in daily Yurt today are completely unrealistic," said a statement from the Presidental Press Center.
History of rumour
Turkey is not new to poisoning and murder conjectures. The deaths of two revered former presidents - Halil Turgut Özal in 1993 and Mustafa Kemal Atatürk in 1938 - were accompanied by poisoning theories.
The health of Turkish Prime Minister Recep Tayyip Erdoğan was also the subject of great speculation earlier this year. A leaked email from security analysis company Stratfor said that Erdogan's two serious hospital operations, performed in November 2011 and February 2012, were due to terminal cancer.
The email claimed the prime minister, who won a third consecutive term at an election in June 2011, had just two years to live, forcing another official denial.