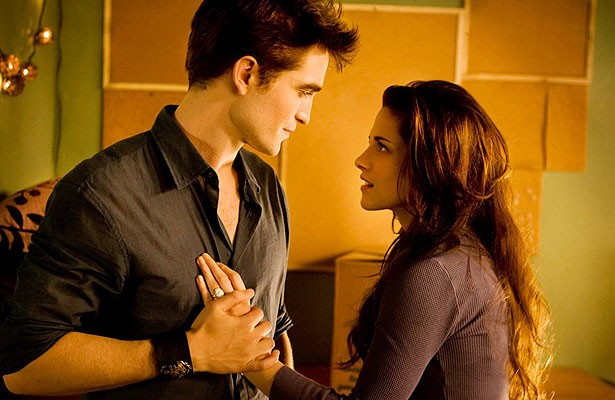 As fans of the Twilight series of films eagerly wait for the final instalment of the franchise, the producers have released a teaser trailer for the Twilight: Breaking Dawn Part 2, on the occasion of the 111th birthday of central character Edward Cullen, played by Robert Pattinson.
The 80 second trailer has been hailed as being more impressive than previous ones, with Kristen Stewart seen expressing newfound confidence and vigour after being turned into a vampire.
"After 18 years of being utterly ordinary, I finally found I could shine. I was born to be a vampire," a voice-over from Stewart's character - Bella Swan- is heard at the beginning of the trailer.
Meanwhile, in the film itself, we should be set to see more strife and heartache for the happy couple - Edward Cullen and Bella Swan, who are now parents to Renesmee, a half-human half-vampire child (played by 11 year old Mackenzie Foy) - when their secret is discovered by the Volturi.
In the trailer, Cullen tells Bella: "The Volturi think Renesmee is an immortal child", to which Bella responds: "She was born not bitten, she grows every single day".
It all boils down to one gigantic battle, as vampire families from across the world come together, led by Edward and Bella, to save Renesmee.
Fans of the series, from all around the world, have been eagerly waiting for this conclusion to their beloved series and the introduction of Renesmee. A special photoshoot for Entertainment Weekly sees Stewart holding Foy's hand while Pattinson puts his arm protectively around her shoulder. The three - a family of vampires - make for an adorable family photograph.
Interestingly, Foy has a strong facial resemblance to both Stewart and Pattinson, meaning there is an added degree of life and connection in scenes involving the three.
"It's a hugely important part," director Bill Condon was quoted as saying to Entertainment Weekly.
"They were amazing with her," Condon added, "It really brought something paternal out in Rob, and Kristen was especially protective. I'd have to interrupt them when they were in deep conversation to get going with a scene."
Breaking Dawn Part 2 is due to hit cinemas in the UK on 16 November.
Check Out the Trailer Below: