Two people have been killed in clashes between pro-Moscow and pro-Kiev protesters in Ukraine's Russian-speaking eastern city of Kharkiv.
Six people were also injured in Saturday's incident when Ukrainian nationalists opened fire on a group of men trying to storm the headquarters of the Patrioty Ukrainy (Ukrainian Patriots) group.
Police said tensions escalated when a group of nationalists fired gunshots at pro-Russian protesters in Kharkiv's central Svoboda Square.
Several dozen pro-Russian protesters chased the Ukrainian nationalists to Patrioty Ukrainy's headquarters, where the right-wing group then held several hostages from other offices inside the building.
The nationalists eventually gave up their arms and surrendered, with the police making 30 arrests. The incident comes just days after a pro-Kiev supporter was stabbed to death in the city of Donetsk on Thursday.
Tensions are mounting in Ukraine's eastern region ahead of Sunday's referendum in Crimea, which could result in the peninsula being annexed by Russia despite the threat of stiff sanctions from the EU, including asset freezes and a travel ban on Russian military personnel and officials.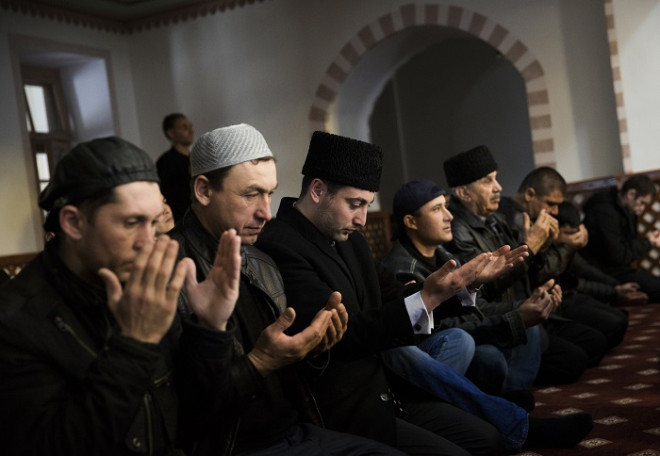 Russia said it would respect Sunday's vote, while the EU and US condemned the breakaway referendum as illegal.
A last-minute diplomatic push by the US to prevent the referendum from going ahead failed on Friday.
US Vice-President Joe Biden is expected to travel to Poland and Lithuania next week to discuss ways to uphold Ukraine's sovereignty and support Nato members' reciprocal defence commitments.
The UN Security Council is also expected to vote on a US-drafted resolution on Saturday, which will denounce Crimea's referendum as illegal.
Crimea's Tartar Muslims have called for a boycott of the referendum amid fears of how the minority community could fare under Russian rule.
The Tartar community was deported from Crimea en masse in 1944 by Joseph Stalin, who accused Tartars of collaborating with the Nazis. Around half of the population died from starvation and disease.
Groups of Tartar men have begun patrolling Crimea's streets in an attempt to persuade members of the Muslim community that Russian rule could evoke painful memories of the past.