Ukip's Nigel Farage Tells LBC Radio: I Don't Want Romanians as my Neighbours [AUDIO]
Nigel Farage shocked London radio listeners when he revealed that he would not want to live next door to Romanians.
Nigel Farage shocked London radio listeners when he revealed that he would not want to live next door to Romanians, during an incendiary appearance on LBC in which his chief press aide burst in and attempted to stop the live interview.
Farage declared he stood by an earlier comment that he would be "concerned" if Romanians moved in next door to him.
The leader of Ukip branded "eye-watering" crime statistics relating to offences committed by Romanians.
Speaking on the popular James O'Brien show, Farage said: "I was asked a question if a group of Romanian men moved in next to you, would you be concerned. If you lived in London I think you would be."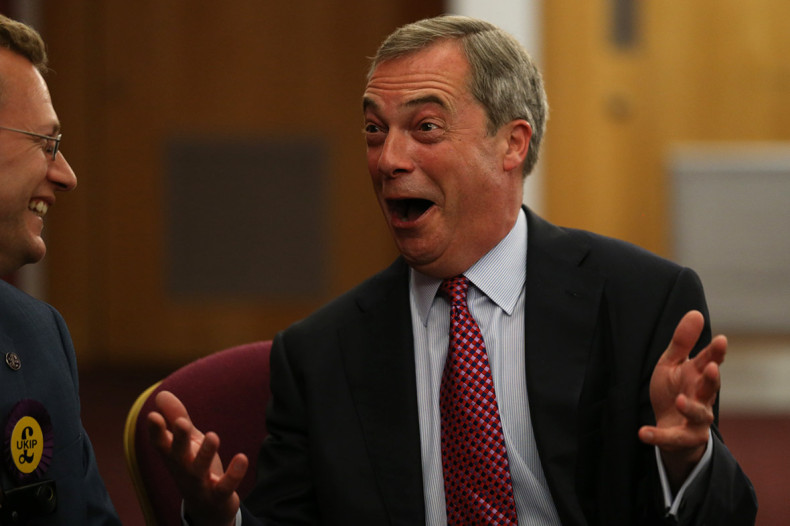 But Farage denied fanning the flames of bigotry against immigrants, insisting: "I'm not demonising anybody. I'm demonising a political class who has had an open door allowing things like this to happen."
When O'Brien asked him what would be the difference between Romanians moving next door and Germans, citing Nigel Farage's own German wife and children, Farage responded: "You know the difference."
Former City trader Farage was also challenged on whether his previous comments about disliking hearing only foreign languages spoken on trains in London was problematic - considering his own spouse speaks German when phoning home.
Farage answered testily: "I don't suppose she speaks it on the train, you know. That's the point I'm making."
Ukip's communication chief Patrick O'Flynn, a former Daily Express columnist, interrupted the interview when the subject turned to the issue of EU allowances claimed by Farage as an MEP in Brussels. But the anti-EU figurehead waved away the intervention.
According to LBC staff, O'Flynn had to be physically dragged out of the studio off camera.
Farage has been awarded millions in taxpayer funds since becoming an MEP in 1999. Recently, he faced questions about what happened to tens of thousands of pounds meant for running a small party office.
"These are fixed-rate allowances I have spent in accordance with the rules. I am very suspicious of the word audit used in that context."
O'Brien challenged Farage to sign up to a transparency agreement governing how the allowances are spent, but he declined to confirm he would do so, saying: "They have an auditor to make sure they spend the money in accordance with the rules. There are no expenses."
O'Brien replied: "You say that as if there is something wrong with it."
Ukip is eyeing major gains at upcoming local and EU elections, later this month.
Listen to Farage's interview: