Former Ukrainian prime minister Yulia Tymoshenko has allegedly called on compatriots to "take up arms and kill the f*****g Russians along with their leader [Vladimir Putin]" in a leaked call widely shared online.
The political opponent of ousted pro-Kremlin Ukrainian president Viktor Yanukovich added that she was ready "to grab a machine gun and shoot that motherf****r in the head". She was referring to Putin.
The phone conversation with Nestor Shufrych, former deputy secretary of the national security and defence council of Ukraine, allegedly took place on 18 March, hours after Crimea's annexation treaty was signed in the Kremlin.
It was uploaded on YouTube by Sergiy Vechirko.
Tymoshenko confirmed that the conversation took place on Twitter from her verified account. But she pointed out that the end of the leaked recording, when she threatens to use atomic weapons against eight million Russians living in Ukraine, has been edited and manipulated.
A translation reads: "The conversation took place, but the 'eight million Russians in Ukraine' piece is a manipulation. In fact, I said that Russians in Ukraine are Ukrainians. Hello FSB [the Russian secret service] :) Sorry for the obscene language."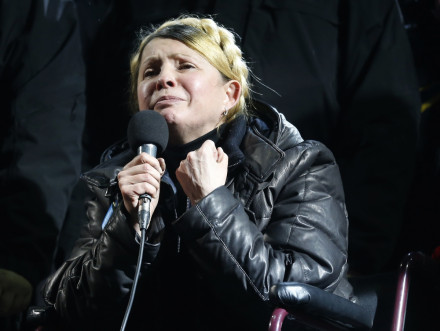 In the last part of the conversation, which is contested by the Orange Revolution leader, Tymoshenko says:
"I will raise all my connections and alert the whole world so as to turn Russia into a burned field."
The 53-year-old opposition icon was freed after the fall of Yanukovich in February. In emotional scenes in Kiev's Independence Square, Tymoshenko made a rousing speech, breaking down as she addressed the 50,000-strong crowd.
The arch-rival of Yanukovich, she was in detention for two-and-half years, accused of an abuse of power while in office in connection with a gas deal that prosecutors claimed made her millions of dollars.
While she served her sentence, she feared the authorities were poisoning her cosmetic products and she refused invasive medical treatments. The Ukranian prison service refuted her claims, suggesting that no suspicious substances had ever been found.
Western governments said her imprisonment was politically motivated and the European Union repeatedly pressed for her release, only to be rebuffed by Yanukovich. She was released following a resolution by Parliament.
Tymoshenko had served twice as prime minister, after taking power with former president Viktor Yushchenko in Ukraine's Orange Revolution in 2004.
During her time in office, she worked to loosen Ukraine's ties with Russia and take her country closer to the EU but trouble started when the pro-Moscow government of Yanukovich entered office.