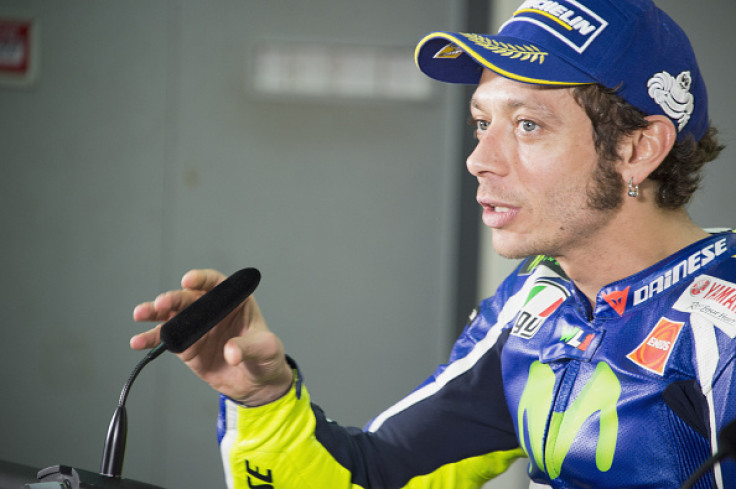 Valentino Rossi could face legal action after he collided with a fan during the Valencia Grand Prix on Sunday (13 November). The fan in question, Ana Cabanillas, says she will press charges against the nine-time world champion after she saw the video of their incident after initially suggesting that she would not take further action.
Rossi pushed Cabanillas who was among the crowd in the paddock at the final race of the 2016 MotoGP season as he and his assistant made their way on a scooter. She was on the verge of taking a picture with the selfie stick and did not see the Yamaha rider approaching. They made contact and the video shows the Italian pushing her out of the way as he broke through the crowd.
The 37-year-old, who finished fourth on Sunday is likely to face more trouble than expected despite apologising to the fan after the incident. Rossi also admitted that such incidents will occur due to overcrowding in the paddock where fans are constantly chasing down the riders for pictures and souvenirs.
"I apologise to the lady, but as I've said before, it's getting impossible to live in the paddock, and especially at tracks like Cheste [Valencia]," Rossi said, as quoted by motorsport.com
"Here there are so many people around me, and a lot of them chase me to take photos while others try to steal my hat. In those circumstances they have to understand that things like this happen," the nine-time world champions added.
Cabanillas revealed that she was willing to let the incident pass without taking further action, but changed her mind once she saw a video, as shown on Spanish publication El Mundo's official Twitter account, which went viral soon after the incident. She believes that Rossi deliberately hit her with his elbow while he passed her, which could land the Yamaha rider in trouble with the authorities.
"If it had not been intentional I would have accepted the apology, but after watching the video I'm going to press charges because it was not only a kick, but he also hit me with his elbow and he did it on purpose. And you can't tolerate that," Cabanillas told COPE radio, as quoted on motorsport.com