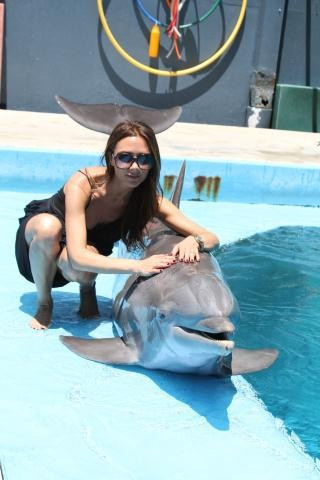 Victoria Beckham is famous for her Vogue pose and a pouting attitude. In fact, she has never been spotted smiling, even when with her daughter Harper. But the dolphins at the California aquatic park did the magic and made her smile!
Victoria was visiting the park with sons Brooklyn, Romeo and Cruz. The fashion designer was wearing oversized shades and a loose black dress with hair loosely left over the shoulders.
The beautiful dolphins at the park made her day.
"Such a special day with the children swimming with dolphins!!! They are so beautiful!!!! x vb," tweeted Victoria.
The Posh Spice has always been criticised for maintaining a distant body language from the rest of the Spice Girls gang. She looked aloof even for the launch of the Viva Forever, the new musical of the Spice Girls.
Seizing the opportunity, Katie Price, Victoria's old rival, took a dig at her calling her "Misery Spice."
"Cue Misery Spice, who couldn't muster up a single smile for all those fans who have made her what she is. Perhaps her bunions were killing her again, or maybe her tight dress meant she had problems holding in her wind - but it felt like a case of her thinking: 'I'm in fashion now dah-lings. All this is just SO beneath me'", Price took a dig at Victoria.
But her band mate, Melanie Chisholm, defended Victoria, saying that she had a hectic schedule.
"It's annoying when people say Victoria wasn't smiling or didn't want to be there. She really did. It was a flying visit and both her and Melanie [B] were exhausted as they'd flown in from Los Angeles. She was so tired but, among us, she was in great form. She's a very busy lady and in the middle of designing a new range. It's certainly not easy for her," Chisholm told the Daily Mail.
There seems to be another opportunity around for Victoria to smile again, daughter Harper's first birthday.
"Victoria's spending around £50,000.The garden will be filled with big pink cuddly toys, pony rides, a bouncy castle, balloons and tons of cupcakes. It'll be totally pink. It sounds odd, but she's even hiring special dyed-pink rabbits. They haven't had a house party since they got their Beverly Hills mansion totally renovated so they wanted a big celebration to show that off too," a source told Closer Magazine.
Check out Victoria Beckham smiling: