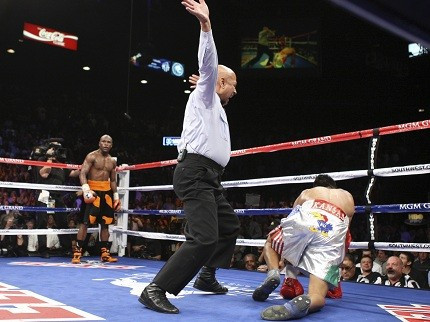 Floyd Mayweather's controversial victory over Victor Ortiz has raised questions over the prospect of a long-rumoured fight between Mayweather and Manny Pacquiao.
Mayweather's knockout triumph over Ortiz in the fourth round of their welterweight fight extended his record to 42-0, winning the WBC welterweight belt in the process.
However, the 34-year-old refused to commit to the showdown most anticipated in the boxing world.
A bout between the two biggest fighters of their generation would guarantee a massive pay-day for both men. Five-division world champion Mayweather had been set to face Pacquiao in 2010 until negotiations collapsed over the American's demand for random drug testing, Reuters reports.
"I don't need Pacquiao," Mayweather told reporters after beating Ortiz in Las Vegas.
"With or without Pacquiao, every time Floyd Mayweather goes out there, he's going to make over $70m.
"I don't need him. Where was Pacquiao in 1996, 1997, 1998, 1999, 2000, 2001 when I was dominating the game? He never asked me [for a fight] when I was in my twenties or when I was in my teens."
But GoldenBoys Promotions President Oscar De La Hoya believes a Mayweather-Ortiz rematch should take place first, before a big-money fight against Pacquiao.
"First of all, I have to say that both Victor Ortiz and Floyd Mayweather looked good. No doubt about that. Ortiz's foul of head-butting Floyd was uncalled for and there is no excuse for it. If I was the ref, I would have deducted two points," De La Hoya said.
"But what Mayweather did was bad sportsmanship. The referee, Joe Cortez, I don't know what was going through his head. He fell asleep during the fight."
The former champion said he would push for a rematch with Mayweather in the coming months.
"What I am going to pursue is what's right for Victor. He's a young guy. A young lion should not go out like that. A young lion like Victor should have another opportunity, because it was only the fourth round.
"In the fourth round, you're barely warming up. You're 24 years old. I'm going to fight for a rematch for Victor. He's going to be world champion once again, that's my feeling."