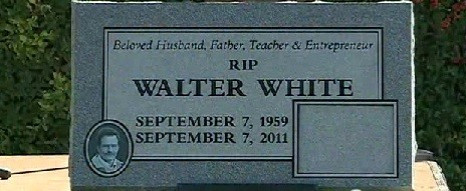 A gravestone for Walter White - the main character in the popular TV show Breaking Bad - has been removed from a cemetery following complaints from grieving families.
More than 200 devoted fans attended a mock funeral for the fictional character where the show was set in Albuquerque, New Mexico.
As well as being a way for the fans to say goodbye to the character and the show itself following the broadcast of the final episode, the stunt was also billed as a fundraiser for the homeless, as people paid $20 (£12) to attend.
However, families whose loved ones are buried at the Sunset Memorial Park were offended about the placing of a Walter White headstone, complaining that it was disrespectful to those who are buried there and it will turn the cemetery into a tourist attraction.
One Albuquerque resident, Manuel Montano, told a local TV station: "My son is buried about 15 yards from where the makeshift gravesite is. This is a place of mourning. It's not a spectacle."
Montano started an online petition to get the headstone removed, which gained more than 1,000 signatures.
"Locations where Breaking Bad filmed in Albuquerque have become tourist traps now that the show has ended", he said.
"Walter White's home draws up to 10,000 cars full of fans a month.
"Adding a physical grave site will encourage tourists to visit a sacred burial site of hundreds and hundreds of loved ones."
A second family member also claims he saw one of the Walter White 'mourners' walk over the grave of a three-year-old boy during the fake funeral.
Following the outcry, the organisers of the mock funeral said they will remove the headstone and place it at the Vernon's Steakhouse they own.
The restaurant's owner, Michael Baird, said: "It was never our intention to disrespect those who are buried at Sunset Memorial Park or cause pain to their families.
"We created the Walter White Funeral and Final Amends as a way to have a positive impact on the community and help those who are negatively impacted by the terrible effects of drug addiction and homelessness.
"We greatly apologise to anyone who was offended, and want to ensure that the focus remains on the amazing work that Albuquerque Healthcare for the Homeless does in our community."