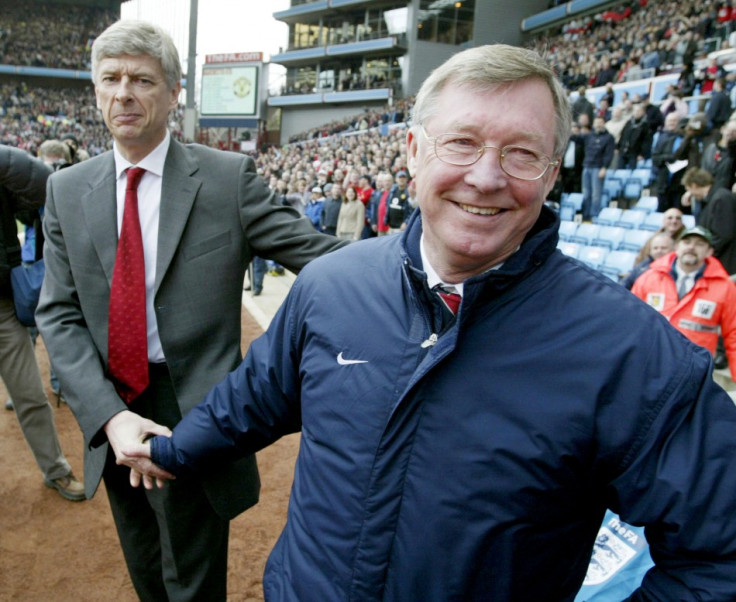 The former Manchester United and Arsenal defender Mikel Silvestre has praised Sir Alex Ferguson and Arsene Wenger as two of the all time greats but suggests the former long serving Old Trafford supremo is "the best".
The former France international spent nine years at Manchester United, winning five Premier League titles and one Champions League winners' medal, prior to making the unusual move, given their rivalry, to Arsenal in August 2008.
The 34-year-old admits he feels hugely honoured to have played under two of the greatest managers in English football history, and suggests the abilities they show at Manchester United and Arsenal respectively, could translate in any walk of life.
In an interview with Sport360.com, Silvestre praised Wenger and Ferguson's longevity at Arsenal and Manchester United, claiming that will forever set them apart from their peers, but the Werder Bremen stalwart admits the aforementioned Old Trafford stalwart is one of the greatest of all time.
"Well I've been asked that many times before," The Frenchman told Sport360.com when asked to reveal who is the better manager between the Manchester United supremo and Arsenal chief.
"But what makes them (Wenger and Ferguson) both successful, is the fact that they are able to manage a group of 25 players and get the best out of them for so many years. They are both clever and have a sense of management that could help them do well in any company, not only in football." The defender, who left Arsenal in the summer of 2010, said of Wenger and the long-serving Manchester United manager.
Although Silvestre holds the Arsenal manager in the highest regard, his decision is perhaps swayed by his trophy laden tenure with Manchester United.
"I spent nine years with Manchester United and I believe I was coached by one of the best not only in sport, but in terms of management style," The former Old Trafford star said when discussing the Wenger, Ferguson, Arsenal, Manchester United rivalry that has perhaps epitomised the Premier League era.
"Sir Alex is the best and at (Manchester) United I had this chance to play under him and with some of the best players in the world. And it was a very good time. We won all the trophies you can win in England and in Europe and it was a successful time for me."
Having enjoyed a hugely successful career at Manchester United, the former Inter Milan youngster moved to Arsenal where things were patently different but no less enjoyable under the guidance of Arsene Wenger.
"My time at Arsenal wasn't quite as successful as it was with (Manchester) United, but I enjoyed it and I was also lucky there to work under (Arsene) Wenger and to get to know what Arsenal was all about. When you play against a team, you don't know what's behind the scenes and it was good to spend two years there.
"It was always strange playing against (Manchester) United. When I faced them for the first time we were playing at home and we won that match. It was a strange feeling, but a game is a game and you always want to win," The former Manchester United and Arsenal defender concluded.
Silvestre played close 250 league games for Manchester United before spending just under two years at Arsenal. He is currently playing in the Bundesliga with Werder Bremen.