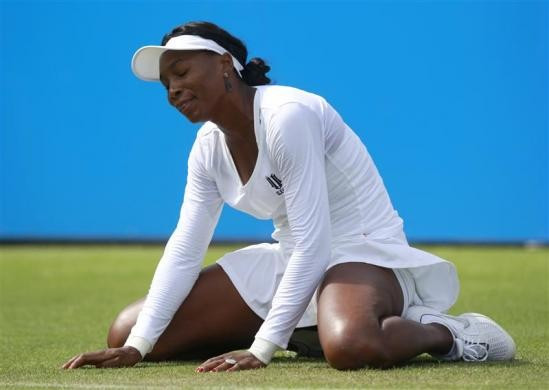 The rhetoric before the exits of both Serena and Venus Williams from Wimbledon yesterday afternoon was that women's tennis was in disarray because these two champions had a chance of winning the tournament. In reality, they didn't and when they came up against better players, there lack of tennis over the past twelve months was always going to haunt them, However, what was said was not only insulting to the other players in the draw but also to the Williams sisters themselves. Let us not forget these are two of the finest players the women's game has ever seen. Let us not forget these two players have won 20 grand slam titles between them, nine of them coming at Wimbledon.
Having said that, what yesterday's defeats showed us is that the Williams sisters' domination of the women's game is over. It was a double shock yesterday afternoon no doubt, but both Serena and Venus were travelling to Wimbledon in hope rather than expectation. Both players struggled to the fourth round of the championships and were found wanting by better prepared players who were not intimidated by what the sisters brought to the court.
And who would be intimidated anymore? Both Serena and Venus struggle to dominate points and are heavily reliant on their first serve. Is without doubt a weapon but when it breaks down the two, especially Venus, are left exposed by the better players on the tour. Yesterday was an example of two players being beaten by better players, players who offered more, had more variation and a greater desire to win. Nobody can question their desire to compete but with the standards they have set over the years, shouldn't they be doing more than just competing?
Both Serena and Venus are a long way from where they need to be in order to fight at the top of the women's game. After all, Venus has not won a grand slam title since 2008. Both players had to accept they were beaten by the better player on the day. No matter how short their preperation was, for these two players to be beaten by better players in the fourth round of Wimbledon must be hard to comprehend. Both matches were hardly close, both lost in straight sets without really threatening either Mario Bartoli or Tsventana Pironlova.
Venus has more to worry about than her sister Serena. Her three matches at Eastbourne were not enough and Venus has clearly lost her edge. Players do not fear playing her anymore. Serena still has the aura because she has won recent grand slam titles. There is an argument that Serena is starting to get back to some form and although balls were going out they were passing the net. The same can't be said for Venus. With her injury problems clearly affecting her game, against top players, Venus struggles to impose herself on the match.
There passage to the fourth round was impressive for the amount of tennis they had played over the past year. However, with a tough schedule on the American hard courts coming up alongside the sister's off court distractions, is it really beyond the realms of possibility that we may not see either sister win another grand slam title again?