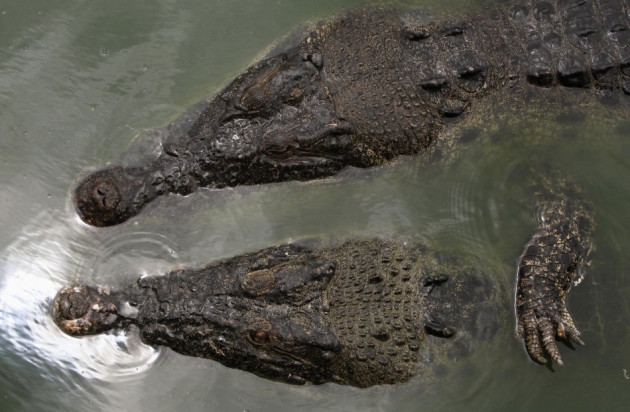 A woman is believed to have committed suicide by feeding herself to crocodiles in Thailand.
Tiphawan Prakarn, 36, never returned from a visit to the Crocodile Farm in Samut Prakarn, 29km south of Bangkok.
Tiphawan suffered from depression and had told her husband Sunai Jisathra, 55, she was going to see a doctor.
However a woman fitting her description was seen "jumping intentionally" into a crocodile pit by workers at the popular tourist attraction, her husband said.
The farm denied the incident ever happened but Tiphawan was caught on CCTV entering the crocodile park.
Sunai also said a man claiming to be a farm's representative called him to offer a settlement.
His wife's suicide came as no surprise to him, as she had been suffering from depression for a long time due to money problems.
'It is possible she committed suicide to escape her troubles,' he said.
Sunai added he has no intention to sue the farm, as long as the truth about his wife's death is revealed.
The Samut Prakarn crocodile farm, established in the 1950s, is the largest in the world, hosting more than 100,000 crocodiles.
The park is home to the biggest crocodile held in captivity anywhere in the world. Named Yai, the crocodile measures six metres (19 feet 8 inches) and weighs 1114.27 kilograms (2465 pounds).