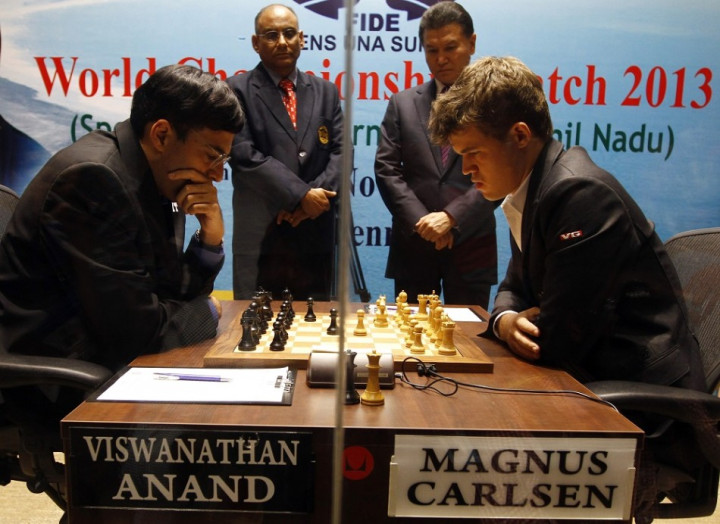 Click here to know Where to Watch Game 2 Live and Preview
Defending champion Magnus Carlsen and Viswanathan Anand started the 2014 World Chess Championship by avoiding a defeat as the match ended in a draw in the 48th move at the Olympic Media Centre in Sochi, Russia, on Saturday.
The Indian chess Grandmaster was in white and started the game on a brighter note as he completed the first nine moves in less than two minutes. However, the 23-year-old took over 10 minutes in order to make his ninth move alone.
Carlsen was spending enough time on analysing the game in order to avoid giving away any advantage to the five-time world champion. The Norwegian's first move saw him bring the Knight out (Nf6) very early in the game.
Earlier in the game, Anand looked confident and was a man with a mission. Last year, he lost the world championship even without winning a single game. So far after 12 moves, Anand has lost both his knights and Carlsen doesn't have his bishops on the board.
The first 13 moves completed by Anand was done in less than a minute and the pressure was clearly on his opponent. For the next two moves, the 44-year-old took close to 30 minutes.
Carlsen took over an hour to complete his first 15 moves, which then left him just less than 55 minutes to complete his next 35 moves. This could see the defending champion come under pressure, giving away the advantage to his opponent.
Carlsen goes on the attack in the 23rd move and gives a check by moving his Queen to Qc7. However, Anand evades it making a move Kb1. It does look like both players are looking for a draw. Carlsen and Anand have four pawns, a Rook, Queen and King after the completion of 40 moves.
Three back to back checks by Anand in moves 46, 47 and 48 has seen Carlsen try to defend and the World No 1 has been successful in doing the same. A lot of star moves from both sides until the final defence found by the Indian in the 44th move helped him settle for a draw.