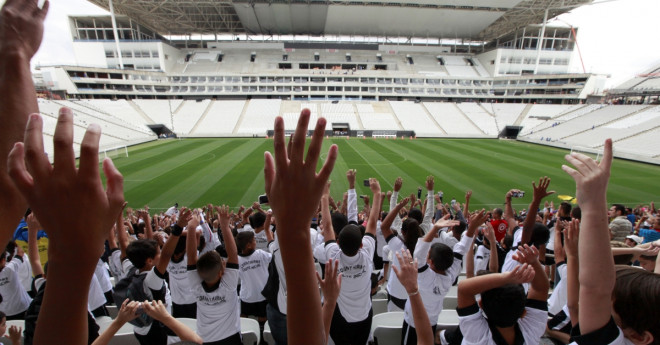 Brazilian sports minister Aldo Rebelo has reassured people travelling to the country for the 2014 Fifa World Cup it will be safer than Iraq.
"I don't think the English will confront greater threats in Manaus than in the Iraqi provinces or Afghanistan, where they recently lost hundreds of young soldiers," he reasoned.
About 600,000 foreign travellers made up largely of football fans are expected to descend on the South American country during the World Cup, from 12 June to 13 July.
Brazil has one of the world's highest murder rates. The UN Office on Drugs and Crime figures for 2012 showed some 25 people are killed for every 100,000 of the population.
IBTimesUK has compiled a survival guide to help visitors to stay out of trouble while visiting the country during the tournament.
Here are the top five golden rules for a safe trip:
Choose the right hotel: You should book as early as possible, as you may risk risk having nowhere to stay. While there are many high-quality hotels in Brazil's major cities, suitable choices can be limited in rural areas. Fodor's Travel recommends 136 hotels across the 12 host cities. Avoid areas around the favelas, a term for Brazilian slums, which are very dangerous, especially for foreigners.
Stay with your family/friends: It's important not to become separated from the people you are with, especially if you do not speak or understand Portuguese. Lone tourists are easy targets for criminals, as they look more vulnerable.
Do not scream if you are being robbed: Brazilian police have put together a pamphlet of top tips for staying safe. This includes remaining quiet if you are the victim of a robbery. "Do not react, scream or argue," advises the brochure, which will be handed out by Brazilian embassies and consulates.
"Tourists come mainly from Europe and the United States, where they do not see this crime very often," explained Mario Leite, President of the World Civil Police of Sao Paulo's Cup Management Committee.
Avoid showing off expensive items: To lower the risk of being the victim of a theft, do not wear designer clothing and expensive accessories, or you could attract unwanted attention.
You can secure valuables or cash with a money belt out of sight or with a backpack lock.
Pay attention to your surroundings when in large crowds; thieves loiter around public festivals, targeting vulnerable tourists.
Think about your health: You should seek advice about vaccinations four to six weeks before you travel to Brazil according to Public Health England. Anti-malarial tablets are recommended if you are going to any Amazon areas. This includes the city of Manaus in Brazil.
Get insurance as this will cover you in case of injury, medical emergency or if you are robbed.