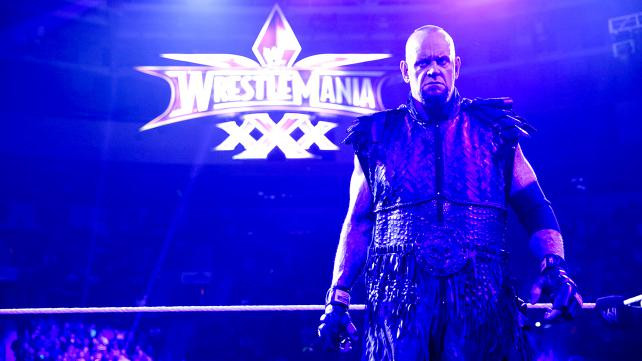 Undertaker returned to WWE's flagship show Monday Night Raw last night, and upon doing so he set up a match with former UFC champion Brock Lesnar at Wrestlemania 30.
As the Road to Wrestlemania kicked off, Undertaker returned to set up his 22nd match at WWE's iconic annual pay-per-view.
Nicknamed The Deadman, Undertaker is currently undefeated at Wrestlemania, with the defence of his 21-0 streak becoming every bit as important to the show's stature and appeal as the WWE title belt.
Undertaker returned following a promo by Paul Heyman, Lesnar's on-screen manager, who had been given an open contract for his client to fight whoever he wanted at Wrestlemania.
Lesnar and Heyman seemed up for the challenge, signing their part of the contract and beckoning Undertaker to do the same, with the former UFC Heavyweight Champion pushing the pen into the legend's chest.
Poor decision. Undertaker used the pen to "stab" Lesnar in the hand before chokeslamming him through the table set up in the ring.
A match between the pair was made official between the two on WWE's website.
Last night also saw the return of legendary wrestler Hulk Hogan, who isn't cleared to compete but who will host Wrestlemania.
Wrestlemania 30 comes from the Mercedes-Benz Superdome in New Orleans and will be broadcast live on Sunday 6 April.