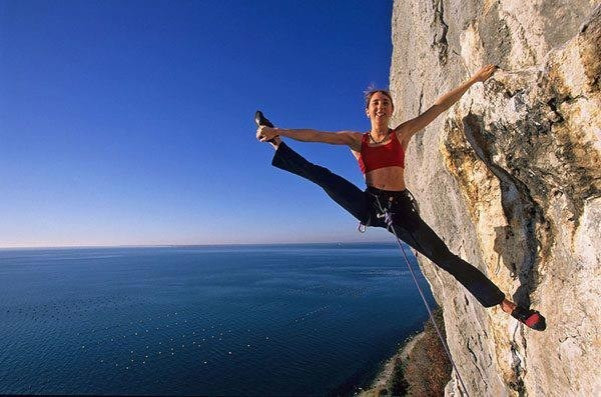 A Slovenian climber and adrenaline junkie has performed a stunning yoga routine- on top of a 3,500metre mountain peak.
Martina Cufar proved that you can have nerves of steel while showing incredible grace by performing her moves on a one-metre wide ridge known as Arretes des Cosmiques, in the heart of the Mont Blanc massif.
The mother-of-one was persuaded to embark on the three-hour hike up the Aiguille du Midi mountain by photographer and adventurer Lukasz Warzecha, who captured the yoga routine on camera.
Warzecha said: "Martina is an extremely good climber and has very good balance and she had started using yoga to improve her focus for climbing and outside the sport.
"I said to her this is something we have to do better and bring yoga and the mountains together, we actually ended up doing the shoot for an American magazine called the Yoga Journal.
The daredevil duo, who were accompanied on the excursion by Warzecha's assistant Matt and a mountain guide, were able to get the images in just one day.
In one snap, Cufar can be seen performing the camel pose while an eagle glides through the air in the background.
Another picture shows her tiny silhouette doing the warrior routine against a backdrop of huge peaks on both sides of a valley.
Warzecha added: "We were there in September time, so the mountains are off-season and it is a lot more quiet and thankfully the winter hasn't arrived yet.
"I felt we were definitely pushing the envelope with this shoot, once Martina got to the top of the tower she took off her harness and balanced on one leg on a space just one metre across."
Warzecha, who lives in Derbyshire's Peak District, has photographed some of the world's best climbers and extreme sportsmen and women. Cufar is a Former World Champion sport climber.