Arsenal legend Alan Smith has questioned Roberto Mancini's loyalty to Mario Balotelli and cautioned Manchester City would never win the title while the Italian remained at Eastlands.
Mancini cast doubt over Balotelli's future at City after his red card in the 1-0 defeat by Arsenal on Sunday. The Italian striker, who has scored 17 goals in 31 club appearances this season, will now serve a three-match suspension and Mancini admitted he would consider selling him in the summer.
Former Arsenal striker Smith is surprised the City manager indulged his compatriot for so long and believes it is the hallmark of successful coaches like Manchester United's Sir Alex Ferguson or ex-Arsenal boss George Graham, to quickly put someone into line if they were letting the team down.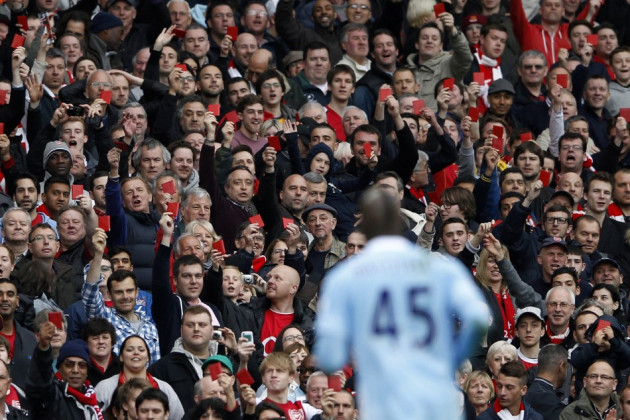 "It isn't easy, but I am trying to imagine Mario Balotelli in the Arsenal dressing room when George Graham's word was law and when Tony Adams, backed by the other senior pros, would quickly bring someone into line if he were letting down the team," Smith told the Telegraph.
"I couldn't see [Manchester United manager] Sir Alex Ferguson going the same way, and nor could I imagine my old Arsenal manager tolerating such nonsense."
Balotelli, 21, was sent-off for a second bookable offence at the Emirates on Sunday, his fourth dismissal in two seasons, and revealed on Monday that he will speak to the club at the end of the season to discuss his future. He also issued a statement through Italian media, apologising for his red card, and expressing regret for any "disappointment caused to City".
But Smith believes Balotelli's relationship with his manager is now beyond reprieve and cautioned that any side with aspirations of winning the Premier League would be advised to sell such a troubling influence at the end of the season.
"Balotelli doesn't give enough to warrant all the hassle. Of course he is talented. The coaches at City often marvel at his ability when the Italian bursts into life on the training ground," said Smith.
"Such flashes of inspiration have also illuminated matches to get the crowd buzzing and lift the team.
"Yet these moments are usually interspersed with longer bouts of frustration when nobody is sure what Balotelli will do next.
"The slumped shoulders, the brooding looks - they've become an all-too-familiar part of life at City.
Quite often, you can tell in the first five minutes how things will go. The eyes aren't right, as if he isn't really there."
Meanwhile, Roy Hodgson has backed Smith's comments and warned that problematic players can end up undermining the spirit of a club, particularly if the manager proves unable to control any disloyal factions.
"To use a Swedish phrase: 'The church should be in the centre of a village'," Hodgson is quoted in the Daily Mail.
"What does that mean? In football terms, what's the church? It's the manager and the ownership of the club. Once you get difficult players, backed up by a sympathetic media, then the church gets moved around.
"It becomes very difficult. No player is bigger than his club. No player should really be a stronger person than the manager. If you talk about Manchester United and their strength for many years, Sir Alex Ferguson is so obviously above the players, that he has the power to say: "Right, you are not doing the job correctly as I want it done. Therefore I'm prepared to jettison you".