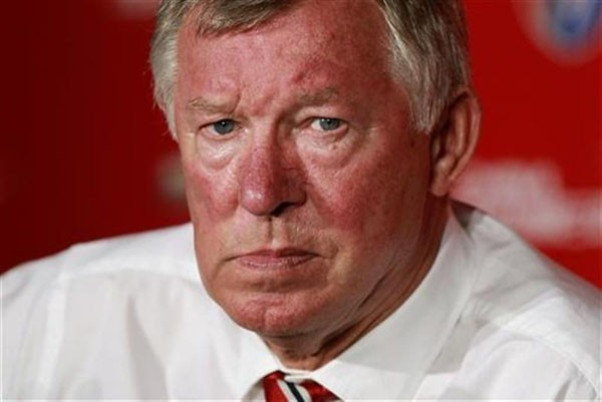 Perhaps the most surprising thing about Sir Alex Ferguson's departure is, well, the surprise of it. Given the man's age, and the forensic media scrutiny which surrounds even the most trivial development at Manchester United, no-one saw it coming, at least not until gamblers started lumping huge sums of money on David Moyes becoming the next United manager yesterday.
Ferguson has decided to retire before, of course. But on that previous occasion, in 2001, the departure was announced months in advance; in fact the timelag was so great that Ferguson had ample opportunity to reconsider his decision, and reverse it. Viewed few the prism of that protracted saga 12 years ago, today's announcement carries the whiff of scrambled, slapdash spontaneity.
Yet, if you believe the man himself, Ferguson has been ruminating on his future for months and the decision was made carefully, and in good order. He tells us now is the perfect time; United have spent millions on a team for the future, stuffed with talented young players such as David De Gea, Phil Jones and Shinji Kagawa, while £20m has been invested into the training ground, creating a facility Ferguson describes as "among the finest in global sport."
United's youth ranks also appear ripe for harvest, with both the Under-21s and Under-18s performing strongly in their respective leagues, and a fresh batch of prodigies earning rave reviews. Ferguson has already talked about the potential of Belgian playmaker Adnan Januzaj, and it would be fitting if a manager who has set so much store in homegrown talent should use his last two games in charge of United to blood one last young hopeful.
But this all begs the question: why quit without seeing all this foresight, planning and investment bear fruit? Surely Ferguson would want to see the young team he has painstakingly constructed over the past three years reach its potential, and win that third Champions League he has so publicly coveted.
Ferguson's health may be a concern. Given he is about to undergo hip surgery, it may have become increasingly difficult to bestride the Old Trafford training ground and retain the ubiquitous, all-action aura which has been crucial to his success at Old Trafford. But surely, if health were a concern, Ferguson would have quit when he had a heartpacemaker fitted in 2004. Instead he stayed to fight another nine years, as belligerent and dedicated as ever.
Perhaps a more telling factor is the power of United's rivals, both internationally and domestically. Perhaps Ferguson, who has built his legend on challenging and vanquishing his enemies, believed that the battle United now face is one he cannot win.
In the Premier League, the resources of Chelsea and Manchester City far exceed those of United, who remain burdened by the debts imposed on them by the Glazer family. Chelsea have spent around four times as much money as United over the past five years, and that sort of spending is bound to tell eventually, no matter how many bizarre managerial decisions Roman Abramovich makes. City, meanwhile, have just hired two of Barcelona's most senior men to transform them into a global superpower, and are sure to come out all guns blazing in the summer transfer window as they seek to reclaim the Premier League title.
In Europe, the challenge facing United appears even more ominous. Bayern Munich have emerged as Europe's leading club, and the new parameters set by Financial Fair Play appear perfectly suited to their savvy approach to spending and deal-making. The German club are already in the Champions League final, having beaten Barcelona 7-0 on aggregate, and they are about to become even stronger with the arrival of Pep Guariola as coach and Mario Gotze as star player.
Ferguson has spent the past five years desperately trying to match Barcelona; the challenge ultimately proved beyond him, as United were utterly eclipsed by the Catalans in two Champions League finals. With an even more daunting prospect appearing on the horizon, the United manager may have finally ducked the challenge, content to bow out with his reputation at its zenith.