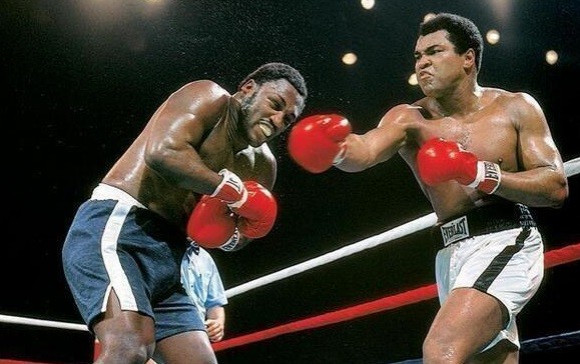 It is almost unthinkable that 38 years ago today the Thrilla in Manilla transcended sport and cemented two legends of the ring. Muhammad Ali and Joe Frazier will both enter the history books as two of the finest exponents of heavyweight boxing to ever lace up the gloves.
The pair may have met on two previous occasions but this was a special moment in boxing history as the Louisville Lip and Smokin' Joe travelled to the Philippines in order to settle their simmering rivalry.
Ali was his usual braggadocios self as he claimed the fight would be a 'Killa and a Thrilla and a Chilla, when I get that gorilla in Manila', while Frazier was confident that his brutal left-hook would once again prove to be the difference.
Frazier had won their first meeting by unanimous decision in a fast-paced and brutal 15 round bout, while Ali had gained a semblance of revenge just under three years later when he gained the decision once again over 15 rounds of fast paced action.
By the time the third contest was agreed, Ali had gained a spectacular victory over George Foreman which gained legendary status due to his rope-a-dope tactics. Frazier fought just twice in between meeting as he stopped Jerry Querry and Jimmy Ellis.
There was the usual hype that surrounded a Ali bout as he continually referred to Frazier as a gorilla and told reporters that "I like to get a man mad, because when a man's mad, he wants ya so bad, he can't think".
This was a tactic he had used spectacularly against Foreman who was bursting with rage by the time he stepped through the ropes in Zaire. Frazier was used to the show and knew that he was coming towards the end of a wonderful career. He inhabited a spartan like existence, either training or visualising how the fight would pan out.
The fight itself was a brutal affair. Neither man willing to take a backwards step or show a sign of weakness. Both men would endure great pain and physical anguish as they traded leather for 14 incredible rounds.
Here is a first-hand account of the action from Daily Mirror reporter Frank McGhee who was sat ringside for this epic encounter.
Until the very last Joe was always plodding relentlessly through everything Ali threw at him, to land the occasional leaping left hook or thudding, clubbing right.
Whenever it happened, Ali tended to overdo the pretence of not being hurt. He felt those punches all right.
The main turning point of the fight came very late - if you ignore Ali's ridiculous assertion afterwards that he himself wanted to quit in the tenth (if he did he kept it a secret from the men in his corner).
It came midway through the thirteenth round when one of two tremendous right-hand smashes sent the gum shield sailing out of Frazier's mouth.
The sight of this man actually moving backwards seemed to inspire Ali.
I swear he hit Frazier with thirty tremendous punches - each one as hard as those which knocked out George Foreman in Zaire - during the fourteenth round. He was dredging up all his own last reserves of power to make sure there wouldn't have to be a fifteenth round.
Both men would appear physically and emotionally drained by the end of the 14th round but it was Frazier's legendary trainer Eddie Futch who would stop the fight.
"I want him boss," screamed Frazier, to which Futch simply replied, "It's all over. No one will forget what you did here today."
Ali would later claim that this was as close to death as he had ever felt. "It was next to death. When a fight as hard as this one gets to the 14th round you feel like dying. You feel like quitting. You want to throw up."
Frazier simply stated: "I couldn't see the punches coming no more. My eyes were both closed at the end. But I wanted to go on."
Ali would continue fighting for another six years, while Frazier would have just two more contests after the loss. Both men were changed forever after that fight there remained a great deal of respect between the two.
Some 38 years we still look back on that war and it is clear that the two fully deserve their place in the history books. Ali may be 'The Greatest' but my word, Frazier was not far short.