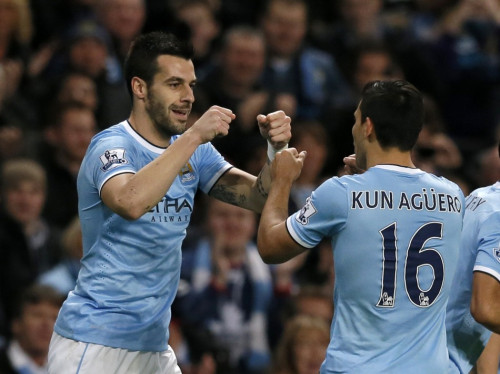 Manchester City striker Alvaro Negredo claims that Arsenal are still the favourites to win the Premier League this season and suggested that Jose Mourinho is "throwing balls out" after his latest comments on Chelsea's chances of winning the league.
The former Real Madrid manager dismissed his side's chance of winning the title, despite registering a 1-0 win over City at the Etihad earlier this month. The victory over the Citizens has seen the Blues sit third in the league table with 53 points from 24 games and are level on points with second place City.
Both City and Chelsea are two points behind league leaders Arsenal. Manuel Pellegrini's men are yet to make a trip to the Emirates to face the Gunners, having already registered a 6-3 victory over the north London club at the Etihad earlier this season.
Negredo believes his side have to do the best till the end of the season in order to win the league, but suggested that Arsenal are still the race to win the title this campaign.
"He's [Mourinho] throwing balls out. A week ago he said we weren´t favourites and now he says we are. The favourite right now is Arsenal and we still have to play against them. We must do our best until the end of the season and then we will see who is the best," Negredo explained.
Pellegrini has seen his side score over 100 goals in all competitions this season. City take on Barcelona in the knockout round of the Champions League after they finished second in the group, behind the holders Bayern Munich.
Despite City's goal scoring form, the Spain international believes the Premier League outfit are still the underdogs to face the La Liga winners in the two-legged European tie.
"Looking at the history, for the numbers of titles they have, Barcelona is the favourite It is true that now they are not as good as in previous years but Barca are always Barca and you have to be very careful with them," the striker said.
"We must have the courage to face them. We have a good squad, quality and anything can happen if we do things right," he added.