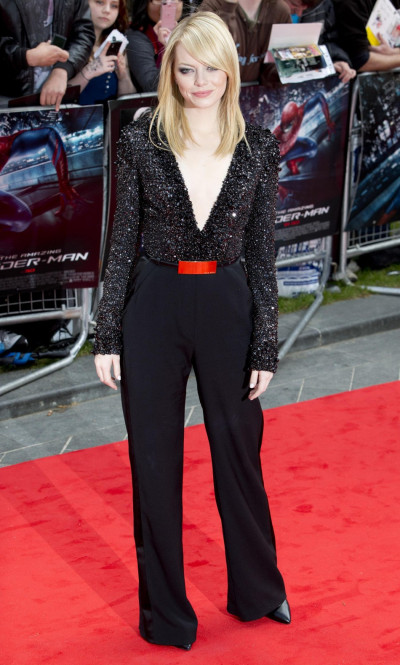 The British premiere of The Amazing Spider Man in Leicester was attended by a host of celebrities, including Andrew Garfield, Emma Stone, Marc Webb, Anna Friel and Rhys Ifans.
Emma Stone, who plays Spider Man's love interest in the film, took a leaf out of her on-screen boyfriend's book and sported a daring attitude - she came dressed in a low V-necked Elie Saab jumpsuit. The black outfit may have been revealing but Stone wore it gracefully, as she posed for photographs. Reports described her as being "totally surreal" and rumours she employed a stylist to prepare for red carpet events seemed well-founded, based on this appearance.
Meanwhile, actress Donna Air came dressed for the occasion, wearing a little black dress with spider web designs and spider jewellery. Socialite Hofit Gloan also wore spider jewellery but with a blue long gown. Danielle O'Hara wore a light pink jumpsuit while Lauren Pope showed her long legs in a black gown with thigh high split. Britain's Got Talent winners, Ashleigh and Pudsey were also present at the premiere. Stone's co-star, Andrew Garfield, was all praises for his leading lady.
"She is fantastic. We all know and love her and she is just so fluid and present and generous and loving. She's very special," Garfield told the Mirror.
As for the film, Garfield plays Peter Parker - a young man who develops amazing super powers after being bitten by a spider. The actor admitted to the pressure of it all and about being nervous of his performance.
"I want to be Spider-Man but this is as close as I'll ever get to feeling like I am, unfortunately. I'm very happy to be working towards actually being Spider-Man. I grew up with Spider-Man. He was an important symbol in my life growing up... plus I was blown away by Tobey Maguire's interpretation. I feel immense pressure, like how Peter Parker feels I think," Garfield told SkyNews, adding he was delighted to be in Leicester.
Stone too spoke fondly of her experience making the film, stating she learnt a lot because, like the rest of the cast, she was allowed to improvise while on screen.
According to the Jakarta Post, director Marc Webb said he was impressed Garfield's transformation and also spoke enthusiastically about the chemistry between Stone and Garfield.
"He was so committed to the physical dimension of the character, like he really was focused on feeling like a spider was taking over him and keeping that DNA alive and every time I would see him, his elbow would be moving a certain way and he was embodying the, like he really was, it felt like he was being taken over by a spider - and when he got in the suit it really paid a lot of dividends," he explained.
The Amazing Spider Man in 3D releases on 3 July in the UK.
Check out photos of the star studded premiere of The Amazing Spider Man