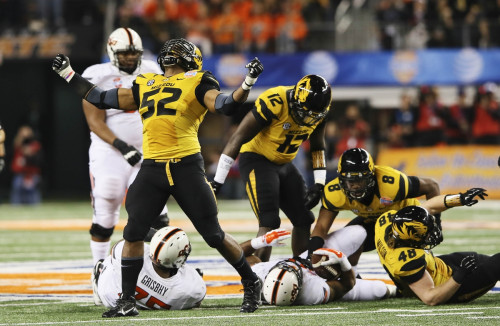 Defensive lineman Michael Sam could become the first openly gay player in NFL history if he is drafted to national league later this year.
Sam, who currently plays for the University of Missouri, was recently voted the Associated Press' SEC Defensive Player of the Year and has a real chance of being included in the NFL draft in May.
In an interview with ESPN, Sam said: "I am an openly, proud gay man."
Speaking the prospect of breaking new ground in the NFL, Sam said: "I understand how big this is. It's a big deal. No one has done this before.
"And it's kind of a nervous process, but I know what I want to be ... I want to be a football player in the NFL.
"I just want to go to the team who drafts me. Because that team knows about me, knows that I'm gay, and also knows that I work hard. That's the team I want to go to."
A separate article by The New York Times on the player reveals that he came out to his Missouri teammates in a preseason team-building exercise. He spoke of his team mates' support and the "awesome" response to his news.
Last week New Orleans Saints linebacker Jonathan Vilma told the NFL Network that he did not want a gay teammate. It is just the latest instance of intolerance in the NFL, making Sam's decision to publically out himself ahead of the draft even braver.
Sam said that if he was ever asked on the street about his sexuality he would answer truthfully, "I guess they don't want to ask a 6 [foot] 3, 260-pound defensive lineman if he was gay or not," he said with a laugh.
American football is hardly alone in its lack of homosexual athletes. In England's Premier League, there isn't a single openly gay player out of roughly 550 professionals.
Rugby player Gareth Thomas and cricketer Steven Davies both earned national acclaim for their decisions to come out, demonstrating the scarcity of gay players in their respective sports.