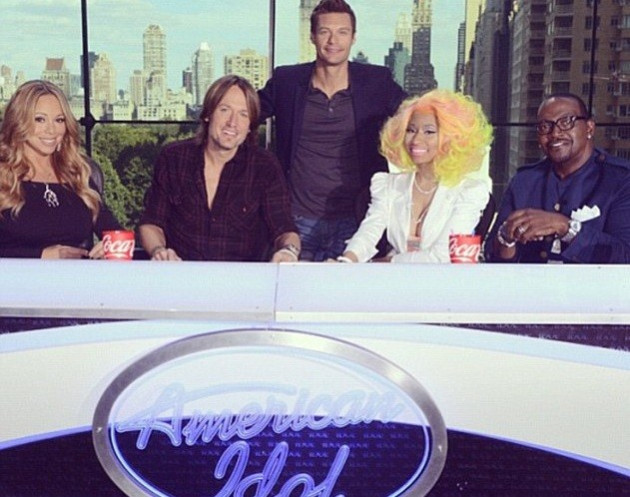 American Idol judge Nicki Minaj reportedly threatened to knock out Mariah Carey in an explosive exchange between the two during auditions.
Show bosses were forced to cancel filming in Charlotte, North Carolina, for the day after the duo almost came to blows and the Young Money rapper launched into a foul-mouthed tirade against her fellow judge.
According to sources, Minaj, 29, got fired up after they disagreed over a contestant's performance and Carey called her a "b****".
In video footage obtained by TMZ, Minaj is heard fuming that she was sick of the Hero hitmaker's "f*****g highness" while fellow panellists Keith Urban and Randy Jackson try to defuse the situation.
Carey's response is less audible on the tape.
Here's the transcript from the video:
Nicki: Get this s**t in self-control. Get in control. Get in control.
Randy: Settle down, settle down.
Nicki: Don't lose your head. Don't lose your head [inaudible]. Don't tell me I'm a gangster.
Nicki: [inaudible] every five minutes. So every time you patronise me, I'ma take it back, and if you've got a f**king problem, handle it.
Nicki: I told them I'm not f**kin' putting up with her f**king highness over there. Figure it the f**k out. Figure it out.
Nicki: I'm not gonna sit here every f**king minute to have you come down and harass me every minute every day.
Sources said Carey startedf the row by picking on Minaj.
An insider told Mouthtoears.com: "Nicki Minaj walked off of set because Mariah Carey kept making jabs at her.
"Nicki's manager and team convinced her to come back to the show. Mariah kept at it and called Nicki a b**** and then proceeded to cuss her out. Producers had to stop filming and call it a night."
The shocking bust-up came just weeks after Minaj showered Carey with praise in an interview.
She said: "Up until the rumours [that they did not like each other], I didn't think there would be a problem because she and I had worked together. I had so much genuine love for her and respect for her I was shocked hearing the rumours as well."
Producers were worried the pair would not be able work together for the rest of the season, TMZ reports.
A Fox spokeswoman declined to comment on the clip.