Olympic boxing bronze medallist Anthony Ogogo will make an announcement on his future before the New Year as he contemplates offers to turn professional.
The 24 year old revealed last month he had contact with Oscar de La Hoya's Golden Boy promotions, while he also turned down a place on the British team for the amateur competition the World Series of Boxing.
Audley Harrison, Amir Khan and James Degale are among those who have used Olympic success as a springboard in their professional boxing career, and Ogogo is revelling in his 'privileged position' as he considers his immediate future.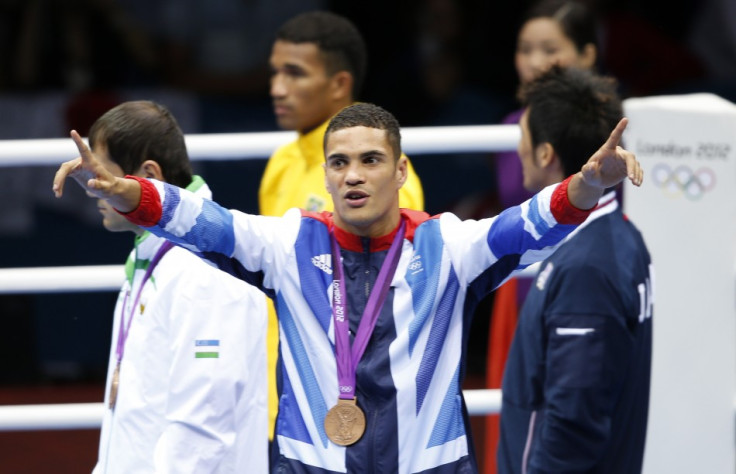 "I'm in a really fortunate position," Ogogo admitted. "I've got a great offer to stay amateur and I've got some great offers to go professional so I'm in a really privileged position so I'm really lucky.
"I could be like so many of the other guys who didn't do so well during the Games.
"I'm in a very privileged position and at the minute I'm biding my time and making sure I've made the right decision and hopefully I'll announce something by the end of the year in what I'm going to be doing."
"Amir Khan's done great he's a two-time world champion but some people haven't done so well like Audley Harrison. James Degale he's European Champion, he's only lost one fight so it's not terrible but I think I've got what it takes to do really well."
GB Boxing's inclusion in the WSB, organised by the International Boxing Association, the sports' amateur body, hands fighters the opportunity to remain amateur while earning salaries and prize money.
Fred Evans, Andrew Selby and Josh Taylor, all of whom competed at London 2012, are included in the British team and Ogogo concedes the rewards on offer and the incentive of staying amateur ahead of Rio 2016 means he faces a dilemma.
"I wasn't so interested now because it would have meant getting straight back into the gym straight after the Games so I wanted a bit of time which I've had now," Ogogo said.
"It's a new thing to aim for it's another way to become a world champion, a world series boxing champion, it's really appealing and financially as well it's quite good; it's more lucrative than just staying amateur.
"If that didn't come in then I think it would have made my decision to turn pro easier but now that's come in and it's a whole new concept it's another thing so that's why I'm taking a bit longer than is essentially necessary than I could have taken."
Gold medallist Anthony Joshua has already committed to staying amateur ahead of next year's World Amateur Championships and the Olympic Games in Rio de Janerio in four years time.
Ogogo may postpone a decision to turn professional and continue his amateur career for the short-term, but the Lowestoft-born fighter says he is mindful of striking while the iron is hot.
"I'm quite conscious but I believe in my talent and regardless of when I turn pro I'll do well," he said.
"I've got people following me on Twitter, I get stopped in the street quite a lot, I get recognised quite a lot.
"It's nice to have that kind of attention so that when I do box on the TV people do want to tune in and stay in and not go out on a Saturday night and watch me.
"That's what pro boxing is all about putting bums on seats and being hopefully adored by the British public is something I want to do in the future."