Italian striker Antonio Cassano says he hopes none of his international team-mates are homosexual.
Reports in Italy had suggested that two players in Cesare Prandelli's Euro 2012 squad were gay and the AC Milan striker has since been questioned about the possibility.
The 29-year-old, who has a reputation for volatile behaviour on the pitch, has potentially driven a divide in an Italian squad already dogged by allegations of domestic match fixing, with comments that are likely to spark outrage.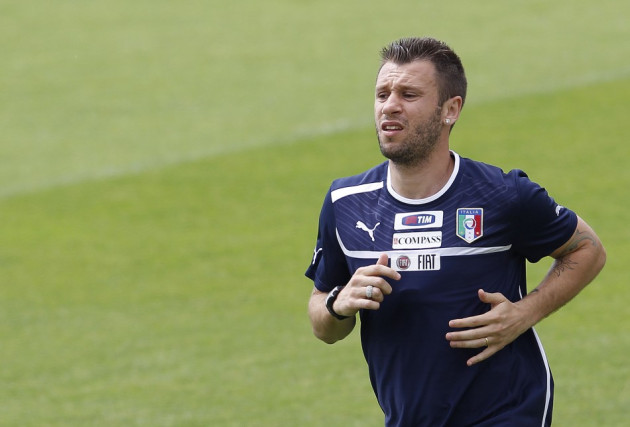 "Poofs in the national team? That's their problem. But I hope not," he said.
"Are there any? I don't know."
He added: "You're not going to translate that to the Polish press, are you? Because if not, you know I'll be attacked from every direction."
Manager Prandelili earlier this year urged for homophobia to be ended in sport, stating that discrimination of sexuality was as serious as racism.
"Homophobia is racism and it is indispensable that we make further steps to look after all aspects of individuals living their own lives, including sporting figures," he wrote in the foreword of a book on homosexuality and sport.
"We must all work for a sporting culture that respects the individual in every manifestation of his truth and freedom. Hopefully soon some players will come out."
Cassano is not the only member of the squad who is against the views of their manager Prandelli, with Angelo Di Natale, who scored Italy's opening goal of the finals against Spain on Sunday, insisting that while his manager's sentiments were correct, they were not realistic in modern day sport.
"Professionally, I admire Prandelli and am fond of the man, but I disagree with him," Di Natale toldLa Repubblica. "Breaking the taboo of homosexuality in football is difficult, almost impossible. I wonder how the fans would react?
"I'm sorry, but I disagree with the choice to go public, at least in football because privacy is very important. Our world, in some respects, is very complex."
Amid a second domestic match-fixing scandal in six years, which saw Domenico Criscito withdrawn from the provisional squad due to the pending investigation, this is another major scandal to hit the Italian squad as it prepares to play Croatia on Thursday.