Carl Jenkinson has recalled Arsenal's thrashing at Old Trafford as his low point at the club last season, with the youngster admitting he learnt a great deal as he watched his teammates lose 8-2.
Jenkinson was sent off in his fourth appearance for the Gunners, as they were ripped apart by a rampant United after losing the likes of Cesc Fabregas and Samir Nasri.
And while the 20 year old found the day to be one of the toughest in his professional career, he revealed that it taught him a great deal about how difficult it would be being in the top flight.
"Old Trafford [when Arsenal lost to Manchester United] was a difficult day for me, and a difficult day for the club. It wasn't nice but I felt like I learnt a lot from that game," he told the Arsenal website.
But the right-back has also concentrated on the positives of his first season at Arsenal, saying: "There were plenty of highs too.
"The one that sticks in my head is at home to Spurs, beating them on our home turf. As a Gooner that was something special. I only played 20-odd minutes but to be a part of that was an amazing feeling.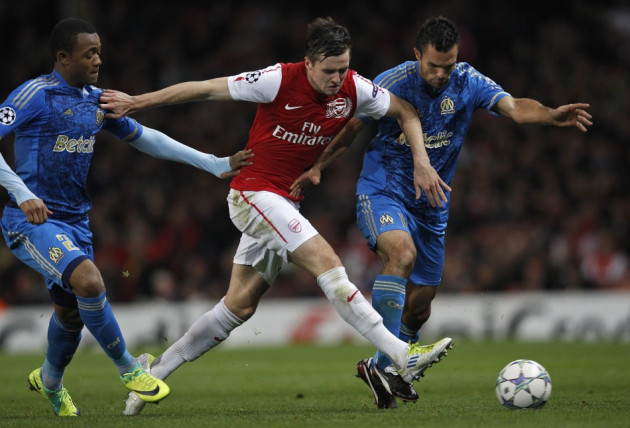 "There have been ups and downs but I've learnt a lot and I feel I've progressed a lot as a football player in my first year."
Jenkinson, who is a self-confessed Arsenal fan from a young age, said that he felt at home at the club almost from the moment he set foot in the Emirates for the first time, and the feeling has only gotten stronger since.
"I think it's only natural that the longer you're at a club, the more at home you feel," he explained.
"Coming here last year I felt a bit blown away with everything. This year I've come back and felt like one of the boys. It was different this year and it was nice because you like to feel comfortable and part of things. I'm happy with things at the moment and hopefully we just move on from here.
"My ambition for my whole career is to play for this football club. I want to be good enough and make my mark here. I won't be happy until I'm playing week-in, week-out. That's what I want to achieve."