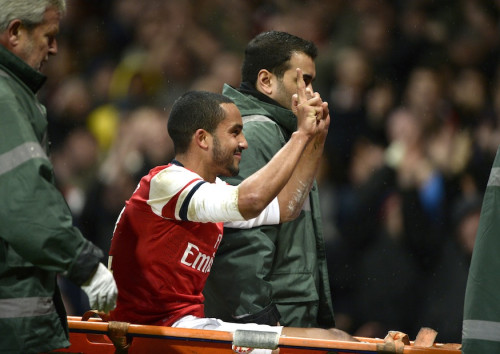 Former Arsenal striker Charlie Nicholas claims the absence of Theo Walcott for the remainder of the season could cost the Gunners the Premier League title this season.
The England international was stretchered off during Arsenal\'s 2-0 FA Cup win over their north London neighbours Tottenham Hotspur. Earlier reports suggested that the 24-year-old could be out for a month, but later tests confirmed Walcott will be ruled out for six months.
The former Southampton star injured his anterior cruciate ligament and will miss the 2014 World Cup in Brazil. In the last five Premier League games, Walcott has scored five goals and managed one assist.
Arsene Wenger has options to replace Walcott in the starting lineup. However, Nicholas claims the current crop of the players at the Emirates will not be able to posses his goal scoring threat.
\"Arsenal are going to miss him badly. If Theo had stayed fit until the end of the season, I think he would have got Arsenal the title because his pace can stretch defenders,\" Nicholas told Sky Sports.
\"We\'ve got (Alex) Oxlade-Chamberlain coming back, we\'ve got (Lukas) Podolski back and also the very talented (Serge) Gnabry, who I think will be able to replace Theo in that position, but he will not be able to replace the pace or the goals.\"
The north London side are on top of the table with 45 points from 20 games, leading second place Manchester City by a point and third place Chelsea by two points.
With the race to lift the Premier League title being so open this season, the former Gunner believes that Walcott\'s absence will hurt Arsenal.
\"I know he (Walcott) has always said he wants to play centre forward, but coming in from the right side, he\'s learnt to play the position really well over the years. His pace was the asset that the team will miss more than anything,\" he said.
\"The longer the season goes on the deeper the teams will get and I think that\'s the asset that Arsenal are going to miss and the goals they will certainly miss,\" the former Arsenal striker concluded.