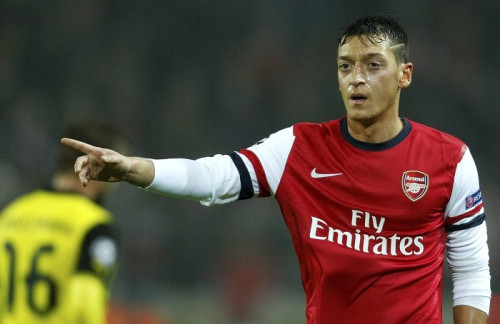 Arsenal legend Ray Parlour has urged Mesut Ozil to improve his game after a recent drop in his performances.
The German international was signed for a club-record transfer fee of £42.5m from Real Madrid last summer. The midfielder had a quick impact for Arsene Wenger's side since changing clubs, scoring two goals and registering three assists in his first five league games.
However, Ozil has seen a dip in his form as the 25-year-old has managed just two assists and has failed to put the ball past the keeper in the last 10 games played in all competitions. He was also blamed for giving away the ball during the Gunners's 5-1 crushing defeat to Liverpool in the league at Anfield.
Arsenal take on Liverpool in the fifth round FA Cup fixture at the Emirates on Sunday before facing Bayern Munich in the Champions League tie during the midweek. Parlour claims Ozil needs to improve quickly as he believes his former club could slip quickly if they do not get results.
"Ozil started really well and you can see the quality he's got, but he needs to improve quickly because they need results. If they don't get results you can quickly slip away," Parlour told Goal.com.
"They've still got every chance, they've got to go to Chelsea, they've got Manchester City at home, and it's still feasible to go on and win the league. He's taking time to settle in. [Robert] Pires had a first poor season and after that he was fantastic. He's just getting to grips with it."
"The Premier League is a lot quicker, in Spain they build up the play a lot slower. They dictate the pace of the game a lot at Real Madrid and in the last third they're lightening when they change pace."
"It's a different way of playing football. This league is a lot harder, a lot more competitive. If you're playing somebody at the bottom, Crystal Palace for example, you've got to be right at it. If you go to Selhurst Park you know you're going to be in a game."
"When you're at Real Madrid or Barcelona and you're playing the bottom teams it's normally four or five nil, a stroll in the park. Here it's a lot more competitive. He's getting to terms with that," the former Arsenal midfielder concluded.